It is so nice to work in a warm, bright, tropical-like environment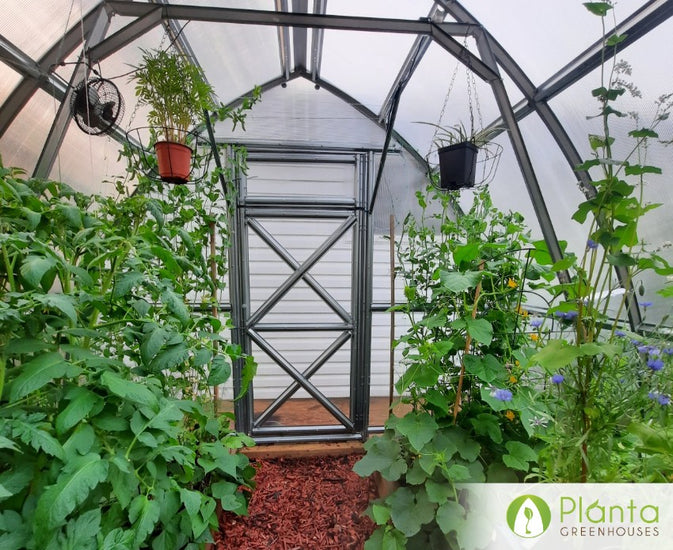 What do you grow in your greenhouse?
So far I've tried:
• In ground: cucumbers, tomatoes, snap peas, kale, spinach, lettuce, onions, basil, and marigolds.
• In pots: thyme, spider plant, snake plant, jade and succulents, aloe, seedlings and cuttings.
How did this greenhouse change your growing season?
The growing season was significantly extended. Frost usually begins at the end of September and early October. As an experiment, I grew hardy plants like kale, thyme, onions which continued growing in the unheated greenhouse into December. (Daytime temperatures on a sunny day inside the greenhouse reached between 10-15C while the outside temperature was -10C or colder. I covered the plants at night and they were fine. Snow cover reduced some light but added further insulation.)
How was your experience buying from Planta Greenhouses?
Really smooth. Easy ordering, fast shipping, good customer service. No complaints.
What's your favourite thing about your Planta Greenhouse?
The greenhouse turned out so much better than I thought it would. When it's cold, windy or raining outside, it is so nice to work in a warm, bright, tropical-like environment. If you are a plant person, you will find the smell of the greenhouse very pleasant. The combination of soil, plants/herbs, woodchips and humid warm air is like going on a vacation. I've made friends with the resident spiders and working bees in the greenhouse. We have a mutual respect for each other and didn't bother each other when we worked inches apart.
What do you want to say to a person considering buying a Planta Greenhouse?
Treat yourself. Get a Planta Greenhouse.
What year did you install this greenhouse?
2021

Any other comments?
"Go away winter. Is it springtime yet?"
- Winnipeg, Manitoba owner of a Planta Greenhouse