What's the meaning of PSF?
PSF stands for 'pounds per square foot.' It's the unit of measurement used to describe how much weight or pressure a structure can handle.

The structure of your Planta Greenhouses is sturdy and highly resistant to snow. However, extreme conditions coupled with a lack of maintenance could increase the risk of damage to your structure.

The chance of a Planta greenhouse collapsing is less than 0.01%. You can keep the risk rate low by following the greenhouse care tips below.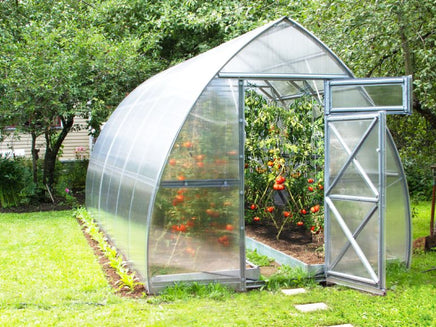 Choose the bell-shaped
Choose the bell-shaped Sungrow model if you live in an area with heavy snowfalls.
Follow the installation instructions
Ensure that the greenhouse is properly tightened to the greenhouse base.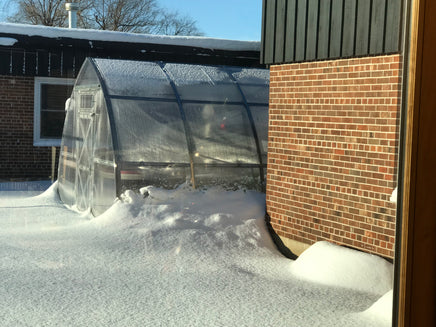 Don't place your greenhouse near other structures
Position the greenhouse at least 6.5 feet (2 m) away from fences or borders where snow can accumulate. Erecting your greenhouse too close to fences, trees, or buildings may increase the chances of collapsing.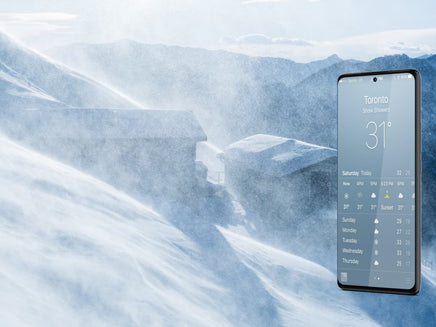 Monitor weather conditions
Check weather conditions to be prepared for heavy snowfall. Keep an eye on local weather reports, and take action to protect your greenhouse when heavy snow is forecasted.
By staying vigilant and taking proactive measures, you can prevent your greenhouse from collapsing due to heavy snow.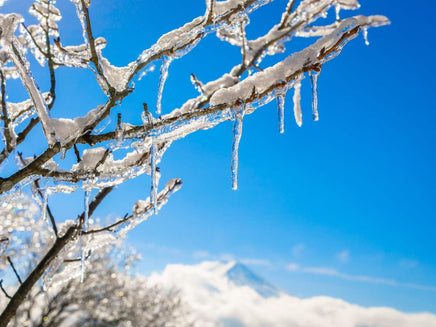 Pay attention in early spring
Wet snow can weigh as much as 50 lbs. (22.7 kg) per foot, and icy snow weighs even more. Ice and wet snow buildup usually happen in the early spring and can damage your greenhouse. If ice and snow pile up this time of year, shovel around the greenhouse.
We've sold 12,000+ greenhouses since 2019, and only 0.01% collapsed. All collapses happened in the spring.
Remove snow from the top and surroundings
Fresh fluffy snow weighs about 4 lb. (1.8 kg) per cubic foot.
Regular snow weighs about 12 - 18 lbs. (5.5 – 8.2 kg).
Packed snow weighs about 25 lbs. (11.3 kg) per foot.
Clean the fresh snow around the greenhouse to keep the structure safe and lower stress on the frame. Use a snow rake or a broom to remove the snow from the top gently. Do this as soon as possible after a heavy snowfall, before the weight of the snow becomes too much for the structure to handle.
See the comparison between Sungrow and Sigma models below.
Sungrow & Sigma Comparison
The

Sungrow

and

Sigma

greenhouses are popular options among growers but differ in several ways. In this comparison, we'll

 look closer at the Sungrow and Sigma models

to help you determine the best fit for your needs. We'll examine factors such as size, snow load, wind resistance, and warranty so you can make an informed decision when selecting your next greenhouse.
Sungrow

Height: 94.5 in

Width: 118.1 in

Length: Varies

Snow Load: 6 feet (75 psf)

Wind Resistance: 65 miles per hour

Warranty: 10 years

Sigma

Height: 83.9 in

Width: 118. in

Length: Varies

Snow Load: 3 feet (32 psf)

Wind Resistance: 65 miles per hour

Warranty: 5 years
Warranty Terms
An extended warranty is included with all Planta Greenhouses. A 5-year warranty is available for the Sigma and Ministar, and a 10-year warranty for the Sungrow.
However, your greenhouse may not be covered by warranty in case of damage caused by:


Mishandling, misassembly, misuse, accident or collision.
Forces of nature, inclement weather, or general wear and tear.
Unnecessary loads inside of shelves.
Unnecessary loads hanging from the frame (Sungrow's arches withstand up to 100 lbs/45.3 Kg. Sigma's arches withstand up to 5 – 10 lbs / 2.2 – 4.5 Kg).
Heavy snow that isn't cleaned on time (lack of maintenance).
Snow build-ups due to the greenhouse location and structures surrounding it.