Sturdy enough for high winds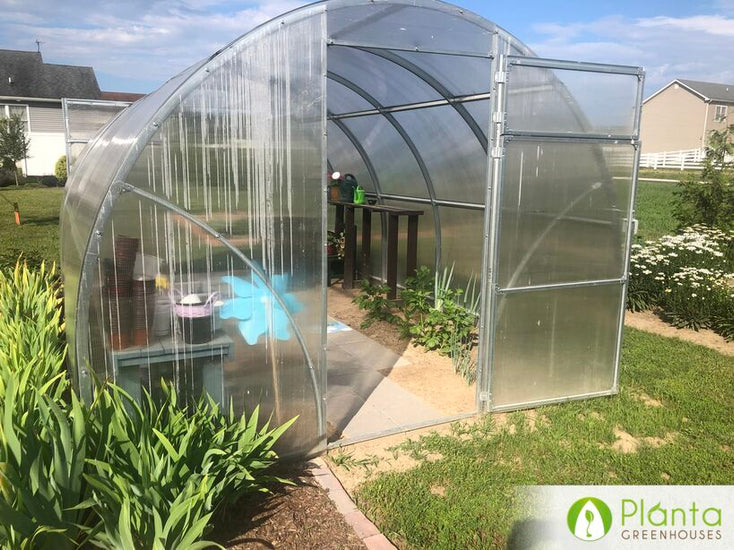 What made you get a Planta Greenhouse?
We decided to get a Planta Greenhouse because of our love of gardening and sustainable living. We wanted a place where we could continue to grow our own vegetables during the winter months, and also give us a head start on our spring plants. We had previously tried using our garage or rooms in our house to start growing before the last frost of the year, but it always became an inconvenience.
We went with a Planta specifically because it was in our price range, and it was made out of sturdy materials. A lot of other options we looked at seemed quite flimsy, which would be a problem for us because it can get quite windy where we are at times.

What competitors did you consider before purchasing from Planta Greenhouses?
We considered AMERLIFE and VEVOR which we found on Amazon, but decided against them because research into other people's experiences with them showed them to be flimsy. I did not want to spend the time and effort putting this on my property only to be constantly worried that it would blow away every time a storm came through. We also looked into a local Amish greenhouse builder; however, it would have cost thousands more and been about half the size of our Sigma Urban.

Why did you choose to buy from Planta Greenhouses?
There are 3 reasons why we decided on Planta. First, the price was within our range. I've learned from previous experiences that spending a little more for quality is worth it in the long run. Second, we were confident it would be sturdy enough to withstand the high winds we sometimes get. Third, the installation tutorial videos made us feel comfortable that the assembly and installation would be something we could handle ourselves.

What do you grow inside your greenhouse?
We have grown Napa cabbage, daikon radishes, green onions, and potatoes, as well as a variety of flowers. We have also used it to propagate clippings from Thuja Green Giant Arborvitae and Leyland Cypress trees.

How did your Planta Greenhouse improve your gardening experience?
Our plants are now protected from the harsh winter months, and we are able to get a head start on our gardening and extend our growing season. Also, with how warm it stays in the winter, it's nice to just sit in there with some tea and relax. It has also caused our daughter to take an interest in gardening and it is something that we can share in as a family.

What was your experience like buying from Planta Greenhouses?
It was very easy to buy. I used Affirm to break it up into 6 payments without any interest. I reached out to customer service once and they responded quickly and thoroughly.

What's your favourite thing about the Planta Greenhouse?
My favorite thing is the sturdiness of it. It gives me peace of mind that it can withstand harsh weather and high winds. It has not moved an inch from where I anchored it despite wind gusts sometimes reaching 30 to 40 mph where we are.

What would you say to a person considering purchasing a Planta Greenhouse?
If you are considering buying a Planta Greenhouse, I would highly recommend it to enhance your gardening experience and peace of mind. There are plenty of videos out there to guide you through the assembly process. I am not a particularly handyman, but my wife and I were able to assemble and anchor it without any significant difficulties.

Anything else you'd like to add?
Paying a little extra for quality is an investment that pays off. It's a wise choice that brings peace of mind, satisfaction, and a higher level of overall value.