It's nice to have a snow-free space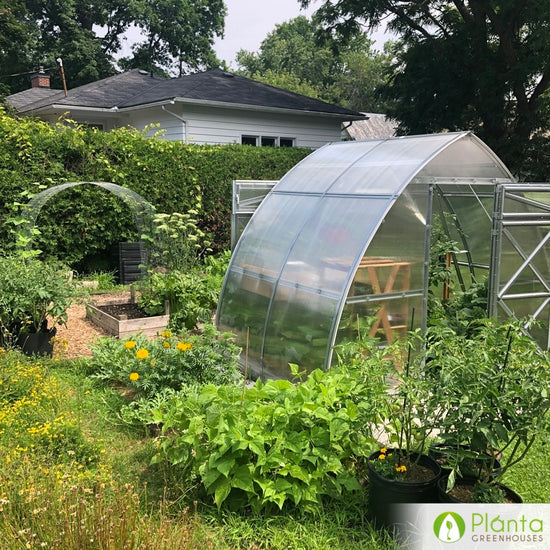 What do you grow in your greenhouse?
This is my first experience growing anything in a greenhouse so I am growing a few samples of different plants to compare with growing the same outside.
I have some onions, small sweet peppers, basil, strawberries, tomatoes cantaloupe and watermelon.
I knew the melons would overtake the space and am somewhat able to contain them. My hope is to extend their ripening come late summer and early fall. The only crop that is bigger and better outside at this moment is the onions, but everything else inside the greenhouse is doing fabulously well!

What other brands did you consider before deciding to go with a Planta Greenhouse?
I mostly looked at purchasing materials and building from scratch but the cost would have been the same if not more. Also, my main concern was to have a strong structure for our harsh Canadian winters but had a limited budget. Your greenhouse fits my needs. Strong, sturdy, relatively easy to assemble and affordable.

How was your online shopping experience like buying from Planta Greenhouses?
Very good!! Your videos and pictures helped me decide on the model needed for my small yard. Ordering was easy and it arrived within a week.

How did this greenhouse change your gardening experience?
I've been gardening for a very long time and was looking for a way to extend my growing season, start earlier, and finish later. I installed it in late August last year and didn't finish building the boxes inside until this spring. In the meantime, I mostly monitored the temperature inside and was very pleased to have a warm (to very hot!) space to sit and read during winter on beautiful sunny days. Even though the soil was frozen inside the greenhouse it wasn't covered in snow so I felt like I was sitting in the garden.

What's your favourite thing about the greenhouse?
My favourite thing is to be able to use this greenhouse during the cold season. Even if the plants are dead or dormant inside, it's nice to have a snow-free space.