Greenhouse story from Pat in Ontario
I love gardening, and the purchase of the Planta Greenhouse was just the thing I needed for my garden. The first year using it, I figured was a learning curve, but so far so good! I've attached some pictures I took of my greenhouse this past summer.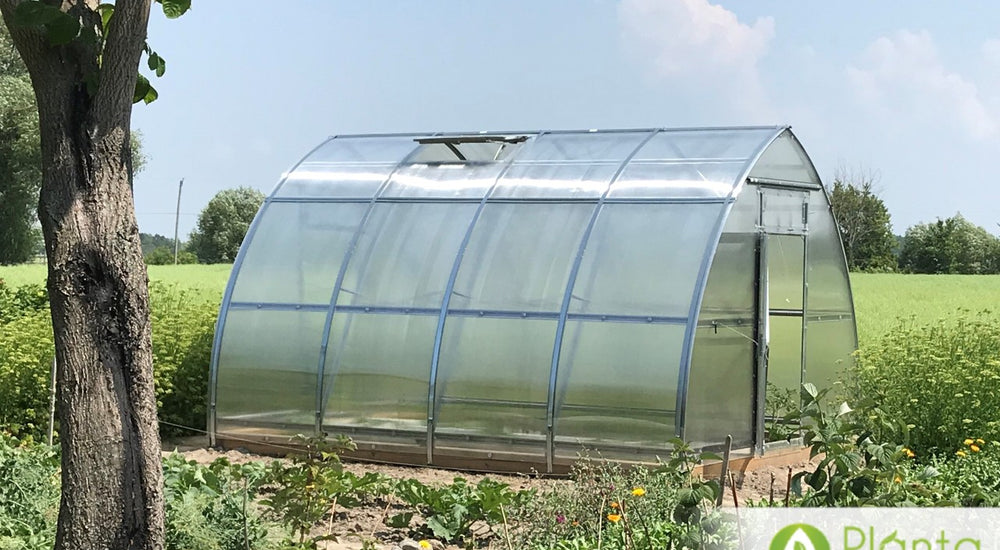 Sorry, I didn't take any later ones when my plants were huge , but I was too busy harvesting, lol. Here are my answers to your questions.
I set my greenhouse up in Verner, Ontario, (which is between North Bay and Sudbury).
It is my first greenhouse. My neighbours have different types of greenhouses and I was considering building my own but I did my research and decided on purchasing a Planta Greenhouse because it looked so durable and I wanted something that would last me for many years.
As it was my first year having a greenhouse, I wanted to try a variety of vegetables so I tried some beans, tomatoes, cucumbers, lettuce, peppers, and basil, all of which did very well. I noticed there were less disease and insect issues on my plants which was another bonus.
My growing season was extended by approximately a month or more, it would have been longer, but I accidentally left my doors opened on a colder night. I keep checking on my greenhouse in the winter and I can also see that I will be starting my season earlier this year as well as the ground in the greenhouse is not frozen, it is quite warm in there already on most days, so I can't wait to get a start on some early plantings.
I was concerned as always when I purchase anything over the internet, especially a larger purchase such as this, but my mind was put at ease and all my questions answered promptly by Planta Greenhouse before and after my purchase. My greenhouse arrived at the time that was arranged and in perfect condition.
One of the things I like the most about the Planta Greenhouse is its sturdy construction and shape. It's built solid and can stand up to heavy winds and snow load. I also like the extra venting which I ordered for my greenhouse, especially on the hotter days in the summer.
If your considering purchasing a Planta Greenhouse, it is a great investment! Unlike some other greenhouses on the market, this one will stand up to our Canadian climate and all the changes it throws at us. In fact, I wish I bought a bigger one!
The only other thing I could say is that construction of the greenhouse does take some time and patience and is probably better as a two person job. I was lucky, I had my son to help out (he did most of the building,lol)
Thank you!
A Proud Planta Greenhouse Owner,
Pat Vandenbogaard