Nancy & Bruce from New Hampshire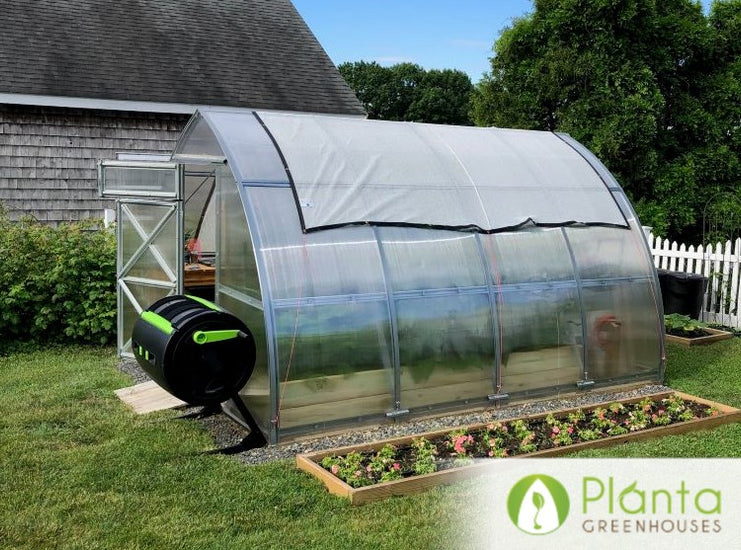 Just sending some photos of our amazing Planta Sungrow Greenhouse we bought last year. This is our first season of planting. My husband built raised beds on both sides leaving room at one end for a potting bench, the other end for shelving, electrical unit etc. We started our own plants in the house using grow lights for the first time – this whole thing is an experiment for us and we're having fun.
The man who helped us build the greenhouse looked at it a couple of weeks ago and said "your plants are on steroids"!! We can't believe how everything grows so quickly and so beautifully – we've had to cut some plants back, they're grown so full! We added a sun screen diffuser net over the top that cuts down the sun by 40% - it was getting too hot because we've had some temps in the 80s and 90s so between the net and keeping a box fan running at one end of the open greenhouse, we're able to manage the heat.
We started plants indoors in April, put them in the greenhouse in May and now in June we have eaten (so far) Swiss chard, beet greens, 1 beet (we're letting them get a little bigger), sugar snap peas (just a few so far), pickling cukes should be ready to pick in the next week. We have green tomatoes and hundreds of tomato blossoms. Green beans and green peppers have blossoms. Carrots are really getting tall, broccolini we planted in a pail because we ran out of room – is growing like crazy.
Like I said, we ran out of room so we're buying the Sungrow extension today! We should have bought the Sungrow 20 in the first place ha ha! I will send more pictures in the next email.
One thing I forgot to mention in my first email is how clean and bug free/bird free everything is in the greenhouse. The raised beds make it so easy for us to plant, water and pick!
We're extending the greenhouse so we can have less in the outdoor garden next year, and more clean produce inside!
We're still learning every day and we're having fun!
Thank you for a great product Planta!
Nancy and Bruce Nickerson
Hampton, NH