Excellent snow load capability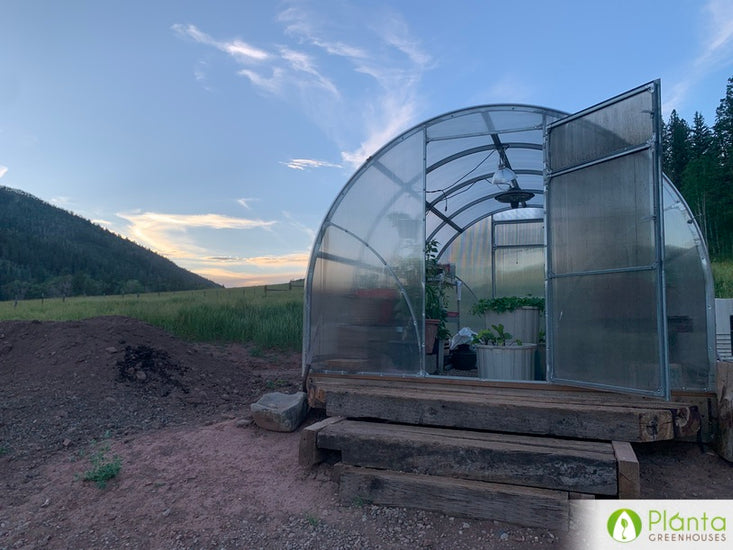 What made you get a Planta Greenhouse?
Living at 8,000 feet, we have such a short growing season here in Colorado's San Juan mountains. We wanted to extend the season by a month on either end and so far it's working great! Also, we chose the Sigma model for that little extra head space.

Why did you choose to buy from Planta Greenhouses?
They had the best snow load rating and frankly the best overall ratings.

What do you grow inside your greenhouse?
Potatoes, sweet potatoes, strawberries, lemon verbena, bee balm, hollyhocks, lavender (that survived the winter!), bell peppers, lettuce, carrots, jalapeños, cayenne peppers, poblanos, fooled you peppers, broccoli, beets, cucumbers, tomatoes, rosemary (from seed), sugar snap peas, cilantro, and spinach.

How did your Planta Greenhouse improve your gardening experience?
It provided a central location for easy care/watering, shelter from the harsh weather, and an extension of our growing season by a month on either end.

What was your experience like buying from Planta Greenhouses?
Yes, it was easy to buy, the price was right and we received clear instructions on where to pick it up.

What's your favourite thing about the Planta Greenhouse?
It was priced right, has an excellent snow load capability, looks great in our location, and was easy to mount to a wood frame which gave us extra vertical clearance.

What would you say to a person considering purchasing a Planta Greenhouse?
Do it! You won't be disappointed. We love ours.

Anything else you'd like to add?
The assembly instructions were somewhat difficult to follow but I would advise anyone to follow them carefully and exactly as written. It also helped me to watch the video on the website.