Cold weather crops keep producing all winter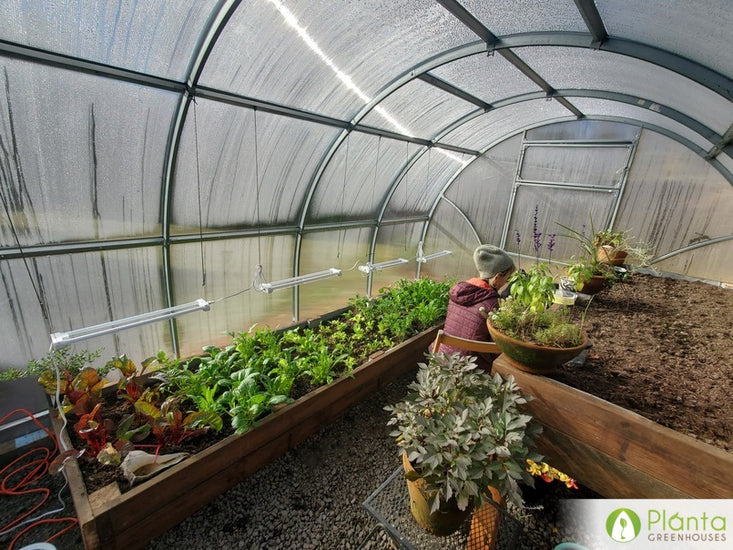 What made you get a Planta Greenhouse?
I wanted a high-quality greenhouse that would withstand strong wind and heavy snow load. In our part of Oregon, we occasionally get up to a foot of heavy snow.

I also wanted as much square footage as possible for our backyard installation. The Sigma Urban has been perfect for us. There's enough space for 2 planters to grow enough greens to keep us eating for the greenhouse year-round.

What competitors did you consider before purchasing from Planta Greenhouses?
I looked at greenhouses sold through Harbor Freight, Lowes, and Home Depot. I really couldn't find a model that had the specs and heavy-duty construction that the Planta greenhouses have.

Why did you choose to buy from Planta Greenhouses?
The Planta greenhouses are slightly more expensive, but the quality is much better than competitors in the same price range. I liked that Planta also offered shipping to a local truck freight warehouse where I was able to pick up the kit and save some money. Mostly, I liked the layout, size, and construction of the Planta Sigma model.

What do you grow inside your greenhouse?
Currently, we've got lettuce, carrots, tomatoes, and potted lemon and lime bushes growing in it. We're experimenting with what crops to plant during each season. During winter, greens like chard, lettuce, bok choi, and radishes do great. Come summer, I'm trying tomatoes indoors vs. outdoors to see what works better. It gets very hot and dry in the Willamette Valley in the summer, so that factors into what we can grow here.

How did your Planta Greenhouse improve your gardening experience?
We can now regulate the climate much better, compared to growing outdoors. We can keep cold weather crops producing all winter. It's also a great storage space to put our potted flowers during the winter. Many of them come back to life the next spring because we can protect them from freezing.

What was your experience like buying from Planta Greenhouses?
It was easy, just figure out the shipping and order. Customer service was great with our purchase.

What's your favourite thing about the Planta Greenhouse?
We just love hanging out in there, especially during the rainy spring and winter seasons. It's a great place to tend the plants, and also hang out and have a cocktail! If there's any sun, it warms up quickly and is very comfortable even in winter.

What would you say to a person considering purchasing a Planta Greenhouse?
You should carefully plan out the project before purchasing. The layout and preparation is important for overall performance. Building the foundation and assembling the kit took us 3 or 4 weekends, and I'm good at this kind of work.

Anything else you'd like to add?
I'd recommend installing the greenhouse on a 4x4 inch pressure-treated lumber foundation, that has been leveled carefully. The greenhouse frame can't be twisted much, or the plexiglass panels won't fit, and the doors won't open and close correctly. Also, plan on buying some reflective shade cloth (like Aluminet) to block some of the summer sun. It can get extremely hot, even with doors open and a fan, and the shade cloth really helps to keep it manageable.