Just beginning to produce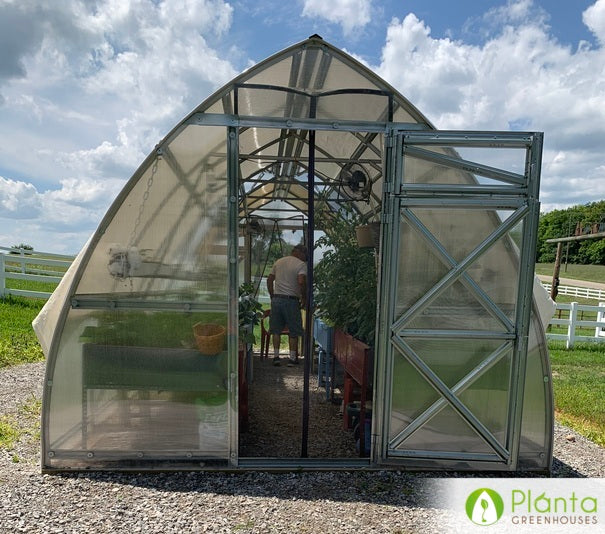 What made you get a Planta Greenhouse?
My husband was tired of fighting grass/weeds in our garden and decided to with Sungrow 20 because the warranty family helped build it and is just starting to produce.

What competitors did you consider before purchasing from Planta Greenhouses?
Researched several but looked mostly at planta products. Very very happy with the outcome and no leaks!

Why did you choose to buy from Planta Greenhouses?
Warranty and after talking with company liked how friendly and helpful they were.

What do you grow inside your greenhouse?
Beans, beets, cauliflower, cabbage, zucchini, cucumbers, tomatoes, broccoli, peppers, and melons. Lettuce and chard. They are just beginning to produce.

How did your Planta Greenhouse improve your gardening experience?
It was a job putting it up but more than happy with it. My husband spends many relaxing time in it. He says that he had to spend time weeding the garden and pulling out mane 2 weeds. He has more time to do other things.

What was your experience like buying from Planta Greenhouses?
Ordered it in the fall it was delivered on time. Customer service was excellent.

What's your favourite thing about the Planta Greenhouse?
We now can have plants in early spring and don't have to worry about frost. The automatic 2 windows work great and don't seem to leak.

What would you say to a person considering purchasing a Planta Greenhouse?
The warranty!

Anything else you'd like to add?
When it said it is 10 feet wide it is at the base but only a few inches up. the braces cut down the width. If you want raised beds you don't have as much space. We built our raised beds before it was put up and had to modify them to have enough for the walkway.