What I needed for my climate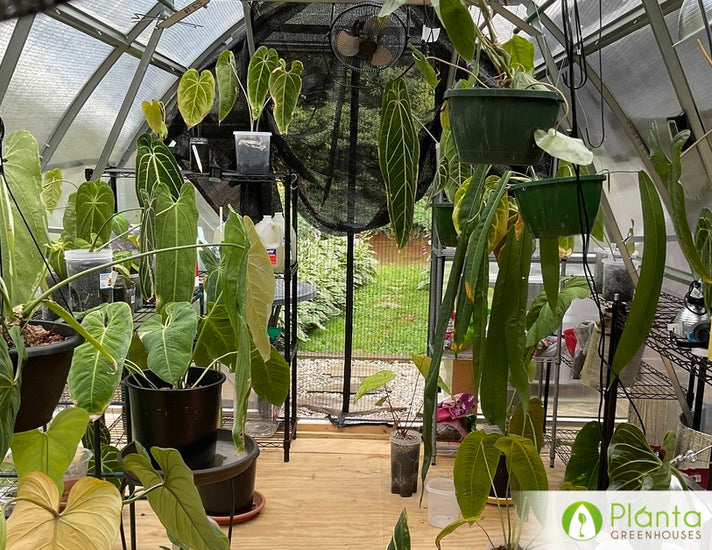 What made you get a Planta Greenhouse?
I am a rare tropical plant collector/grower/enthusiast/and sometimes seller. I researched heavily for a proper greenhouse and was able to find Planta's website. The Sungrow urban greenhouse selection was ideal and met all requirements that I needed for my climate. My plants have excelled in growth and leaf output with greenhouse conditions rather than grow tent conditions. I am very satisfied with my choice and will hopefully one day purchase another one.

What competitors did you consider before purchasing from Planta Greenhouses?
I looked at all of the polycarbonate selections sold on Amazon, which were too numerous to remember product names; Harbor freight, Amish-made greenhouses, and Greenhouse Emporium.

Why did you choose to buy from Planta Greenhouses?
The structure and design for wind and snow was a big decision-maker because of the area in the mountains where I live. It has been through a winter with no damage at all due to very high winds and has been very, very solid. Also, the customer service was very kind, helpful, and prompt in answering questions with good follow-up.

What do you grow inside your greenhouse?
I grow rare and exotic imported tropical plants from Ecuador and Indonesia. I also was able to start vegetable plants this early spring inside of the greenhouse to get a jump on planting. Everything has done great.

How did your Planta Greenhouse improve your gardening experience?
More growth, larger plants, faster seed germination. Ability to start seeds in February to be able to plant sizeable vegetable plants in spring. And also provides a nice warm place to sit out in wintertime on a sunny day and drink tea as well😊.

What was your experience like buying from Planta Greenhouses?
I thought the website was very easy to navigate and purchase from. Customer service was very kind and prompt to answer questions, and also very fast to ship a few missing brackets that were not included in the kit. I always got emails regarding things to expect and the status of shipping.

What's your favourite thing about the Planta Greenhouse?
As a plant collector, it's my happy space. I have enjoyed my time being able to work and grow all of my projects. I installed electricity and propane gas in my greenhouse and have the perfect setup for my hobby.

What would you say to a person considering purchasing a Planta Greenhouse?
I would say it's a good investment for anyone interested in growing. It's designed to withstand a hard winter and heavy wind without worry, which was a selling point for me. I have told several people on Instagram about Planta when they questioned me where my greenhouse came from.

Anything else you'd like to add?
I have enjoyed my greenhouse immensely. It has been a great addition to being able to showcase and properly grow all of my plants. I think it was the best decision to purchase the Sungrow Urban over all of the other greenhouse styles and products that I looked at and do not regret it. I hope to one day purchase a second one.