Blue morning glories are climbing the end walls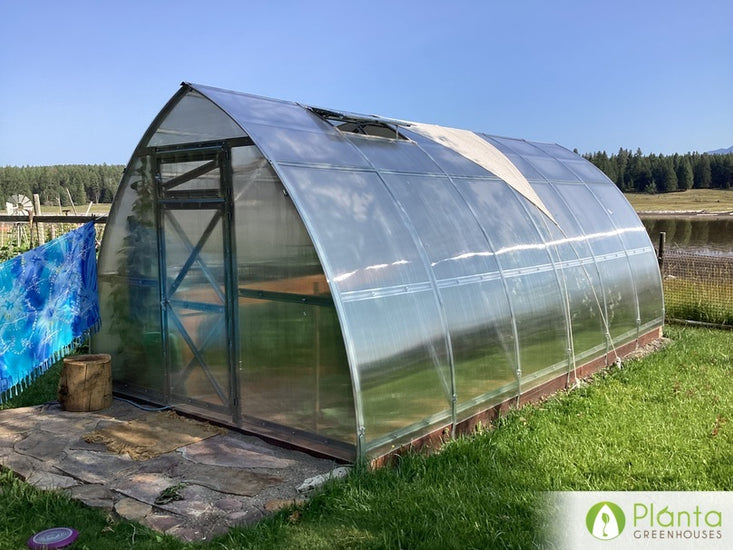 What made you get a Planta Greenhouse?
We love the curved design and that it has 2 doors and 2 automatic windows... Wind and snow capabilities and warranties matter where we live... And! The YouTube tutorials showing us how to assemble it was essential and a relief... they made each portion to build easy...we watched each one 2-3 times as we moved on...It was a big project but the clear visuals made sense and each part of the process went together easily.

What competitors did you consider before purchasing from Planta Greenhouses?
I don't remember the competitors. We only considered glass before you...

Why did you choose to buy from Planta Greenhouses?
We liked the way it looked and your 15-year warranty [we're in our 70's] and the weather limitations of it..6' snow...65 mile per hr winds...and the tutorials. And that it was made in Canada...

What do you grow inside your greenhouse?
We are growing tomatoes, cucumbers, peppers, and eggplant and starting various perennials I have milkweed for butterflies, borage, and hollyhocks ready to transplant blue morning glories are climbing the end walls and are about to trail across the top on twine which will help shade the inside from the intense heat of the afternoon...

How did your Planta Greenhouse improve your gardening experience?
In 38 years of gardening in this spot in northern Montana we have never had any of these vegetables reach this height or size by this date...our summers are not warm enough or long enough we are amazed every single morning when we open the greenhouse and experience the beauty and warmth and incredible lush life in there this greenhouse is the most wonderful addition to our lives.

What was your experience like buying from Planta Greenhouses?
Buying from Planta was as easy. Customer service for damaged crates and replacement pieces was too. Easy, kind, attentive, and complete.

What's your favourite thing about the Planta Greenhouse?
Our favorite thing about the Planta Greenhouse is the joy and the life it has brought to us in the beauty of the structure with all the happy plants growing their hearts out inside...

What would you say to a person considering purchasing a Planta Greenhouse?
You won't be disappointed... It could change your life.

Anything else you'd like to add?
Buying a Planta Greenhouse was the best decision we ever made. We couldn't be happier with this new addition to our life.