I love the greenhouse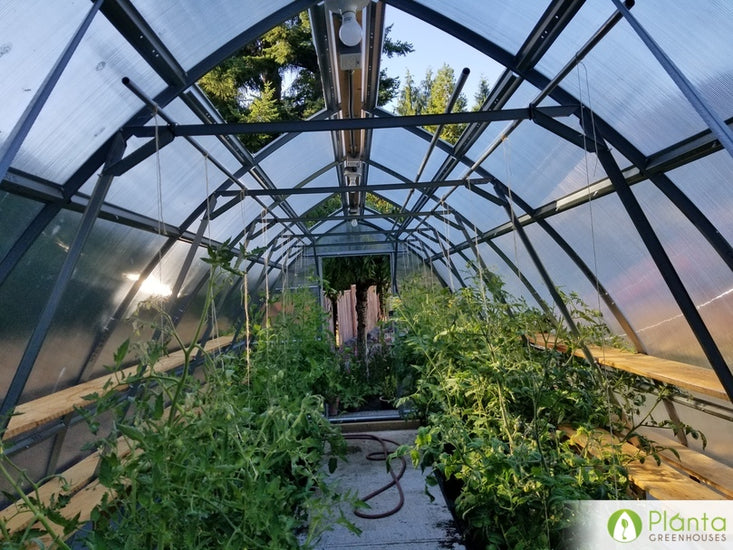 What do you grow in your greenhouse?
This is my 1st growing season.
I'm growing 22 tomatoes in 7-gallon grow bags as well as 1 cucumber and 1 green pepper.

What other brands did you consider before deciding to go with a Planta Greenhouse?
BC Greenhouse.

How was your online shopping experience like buying from Planta Greenhouses?
I ordered a Sungrow Urban (4 meters long) and then upgraded it to a Sungrow 20 within a week. I decided the Urban was too small for my needs.
Planta was always very helpful and efficient throughout the whole ordering and shipping experience.

How did this greenhouse change your gardening experience?
I love the greenhouse. I ordered 4 automatic operating windows. They are built and I will install them in the fall. Too much going on in the greenhouse now.
I have made the 4 cutouts and completed the prep for the 4 windows.
I poured a concrete slab for the greenhouse and installed a 4X4 perimeter ledger to attach the green frame to the slab. I love the concrete floor and I appreciate the extra 4" of height.
I built 1 legged bench on both sides and also added a shelf full length utilizing the horizontal structural support on both sides of each arch approx. 4' above base.

What's your favourite thing about the greenhouse?
Good for growing and will use it later in the season when it is cooler outside to sit and enjoy the outdoors.