I grow things I didn't think were possible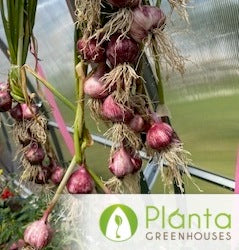 What do you grow in your greenhouse?
We have a very short growing season, so I start all my garden veggies in the Sungrow 20. For the spring and summer I move my lemons out there it makes them happy. I have started many lemon trees for friends there. Now I am attempting oranges. That's not easy to do in a central B.C climate. I have also turned a small section for just sitting and having coffee or a good book and smelling all the tomatoes and lemon verbena.

What other brands did you consider before deciding to go with a Planta Greenhouse?
Getting one built, but I needed something that would withstand the -40 temps and our large snow load.

How was your online shopping experience like buying from Planta Greenhouses?
Excellent and right on time.

How did this greenhouse change your gardening experience?
Having a greenhouse has made my growing season longer and protecting my plants from sudden weather changes. I grow things I didn't think were possible. I am also physically challenged so it allowed me the setup I needed to be successful. I love my planta.

What's your favourite thing about the greenhouse?
That I can have a set up that suits my needs. And I can stay warm when the temperature gets colder. I use crock pots filled with small rocks and water, it is an efficient way for me to keep it going just a little longer in the season. Now I need to find a solar heater.