A protected environment for plants all year long!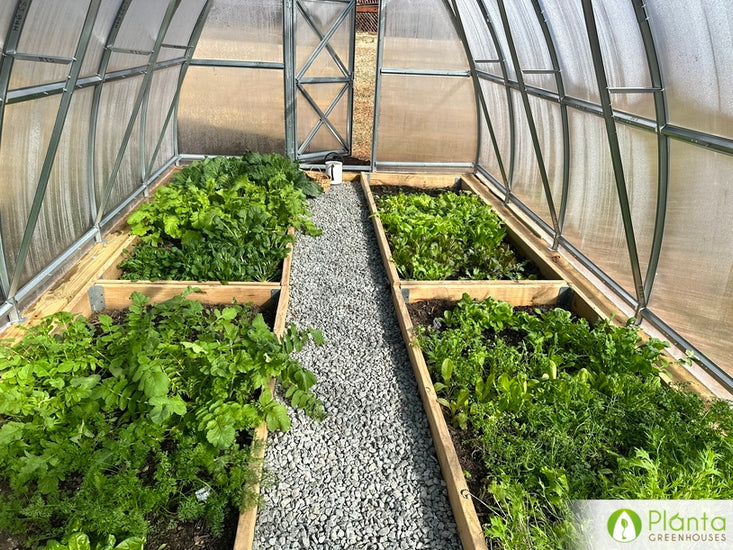 What made you get a Planta Greenhouse?
I bought Planta because of the wind resistance. I live in a fairly windy rural area. I also liked the doors on each end, allowing airflow, with the option of closing the bottom section of the door and leaving the top open— keeps my Guinea fowl from exploring inside!

What competitors did you consider before purchasing from Planta Greenhouses?
Palram

Why did you choose to buy from Planta Greenhouses?
Wind resistance, solid structure, pictures, and recommendations from owners convinced me.

What do you grow inside your greenhouse?
Winter months: salad, mustard, chard, small turnips, carrots. Strawberries
Spring summer: rooting blackberries, growing cucumbers, peppers, lettuce, salad turnips, and leeks.

How did your Planta Greenhouse improve your gardening experience?
I now have a stable, protected environment for plants all year long! I can grow all year and am looking forward to trying different plants this winter.

What was your experience like buying from Planta Greenhouses?
Planta made it an extremely easy buying and delivery service—seamless with the least amount of effort on my part!

What's your favourite thing about the Planta Greenhouse?
I love how easily everything fits together—the instructions were fantastic! Almost wish I could live out there during the winter!

What would you say to a person considering purchasing a Planta Greenhouse?
You will not regret this choice—but Planta!