Extended season in Zone 6A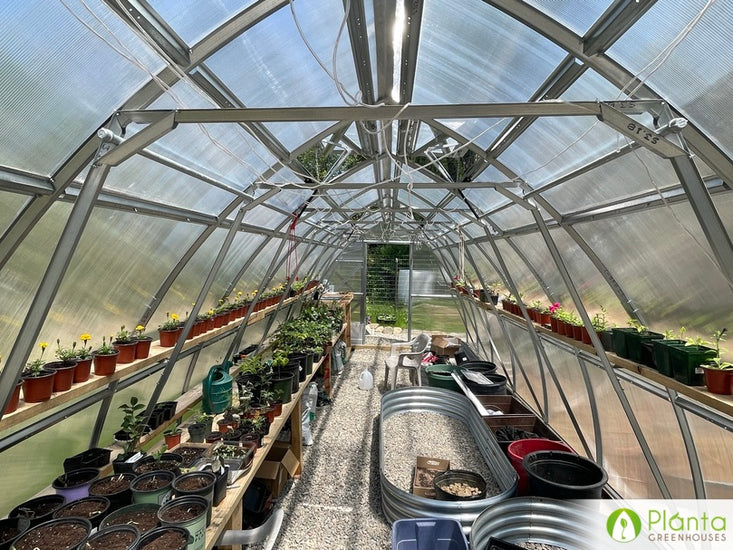 What made you get a Planta Greenhouse?
I wanted a quality polycarbonate structure with a good snow load rating. I saw Planta for the first time on a video and liked the look and the online descriptions.

What competitors did you consider before purchasing from Planta Greenhouses?
I considered hoop house systems and another brand I did not explore beyond ratings.

Why did you choose to buy from Planta Greenhouses?
Videos available online convinced me that this was the best structure for my needs.

What do you grow inside your greenhouse?
Rose cuttings, dahlias potted out before the ground is warm enough for the tubers in Zone 6A, various flowering annuals, and vegetables.

How did your Planta Greenhouse improve your gardening experience?
I am able to increase my growing season here in Zone 6A. I also enjoy the experience of creating a micro-climate biome and trying to optimize its growing conditions.

What was your experience like buying from Planta Greenhouses?
Great! The purchasing experience was easy and delivery was fast and timely with no problems.

What's your favourite thing about the Planta Greenhouse?
The structure is sturdy and the materials are of great quality. I love quiet time with my plants and a place to relax and get away and de-stress.

What would you say to a person considering purchasing a Planta Greenhouse?
Do it! Watch the videos and be patient with the construction. Join the Facebook group and participate in the Planta online community.

Anything else you'd like to add?
I live my Sungrow!