Resilient at 7300 Feet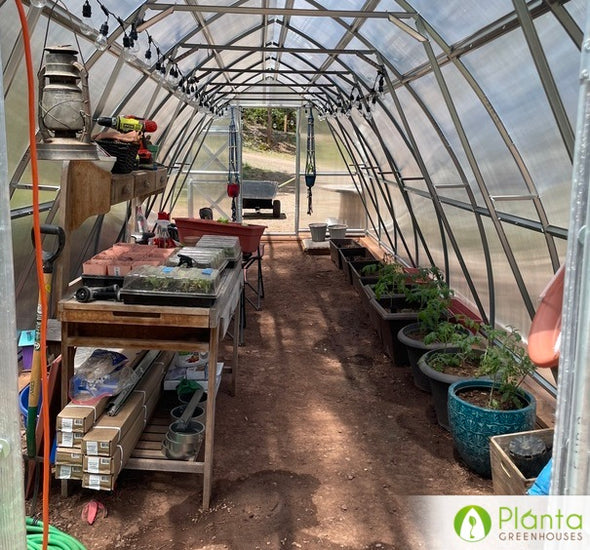 What made you get a Planta Greenhouse?
We were looking for a greenhouse that could stand up to our harsh conditions at 7300 feet in the San Juan mountains. We tend to get a lot of snow during a single event in the winter and sudden wind gusts all year long. We liked the overall size and aesthetics of the Sungrow 26 along with the ability to add features like the auto-opening windows.

What competitors did you consider before purchasing from Planta Greenhouses?
We looked at several other kits online but I don't recall their names since I never bought their product.

Why did you choose to buy from Planta Greenhouses?
The greenhouse met my requirements for what I needed. I also liked that Planta Greenhouses was based in Canada, where folks appreciate winter weather.

What do you grow inside your greenhouse?
We purchased the greenhouse because it's really hard to get produce in the rural area we live in; I just want some tasty vegetables and the more I can grow myself saves me driving 45 minutes to the grocery store. Currently, we are growing several herbs, potatoes, tomatoes, cabbage, collard greens, lettuce, bell peppers, jalapeños, squash, zucchini, watermelon, cantaloupe, cucumbers, Brussel sprouts, raspberries, blueberries, strawberries, lemon, lime, onion, sweet snacking peppers, beets, and chard.

How did your Planta Greenhouse improve your gardening experience?
We have an extremely short growing season and we have a lot of wildlife that would love to devour an outdoor garden. The greenhouse enables us to grow earlier and later in the season and keep the food safe from Mother Nature.

What was your experience like buying from Planta Greenhouses?
It was very easy to buy the greenhouse. I was impressed when I received an email from Tony Stolyar with details of the shipping and installation documentation. The greenhouse came via a freight carrier very quickly.

What's your favourite thing about the Planta Greenhouse?
We love the size and versatility of the space. We've hung lights so we can see at night and the support beams have been great for hanging plants and lattice for the vines.

What would you say to a person considering purchasing a Planta Greenhouse?
It's a very functional kit and if you want something sturdy, the Planta Greenhouse won't disappoint.

Anything else you'd like to add?
I forgot we also have okra growing. There is just so much space it's hard to remember everything we've planted. I've always done an outdoor garden but the productivity we're seeing in the greenhouse is insane.