I like the look and how solid and durable the greenhouse feels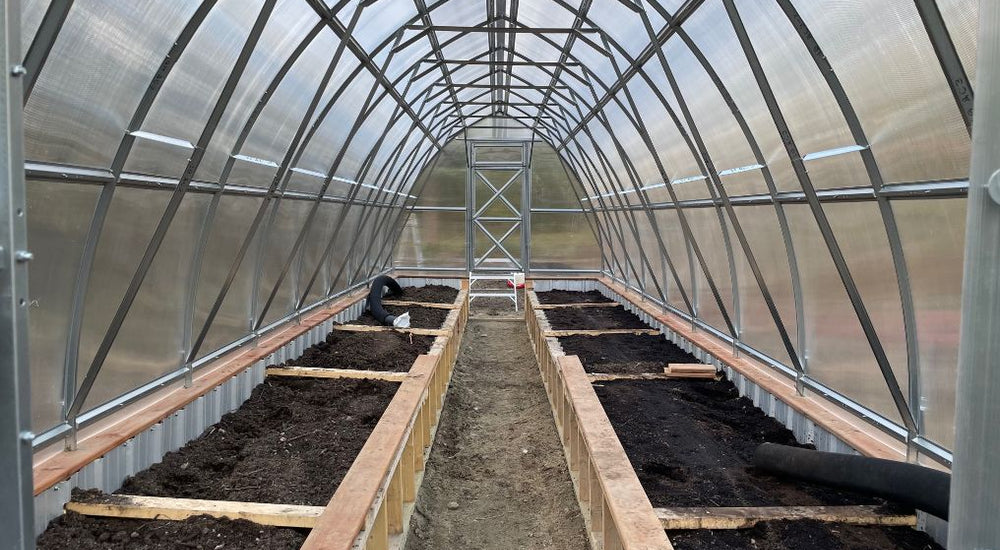 What do you grow in your greenhouse?
We are planning on growing mainly tomatoes, cucumbers, beans, peppers, herbs and to start seedlings.
How did this greenhouse change your growing season?
We are expecting the greenhouse will extend our growing season significantly during the shoulder months and also by regulating nighttime temperature, which can be quite low any month of the year in our climate (Zone 2, Yukon).
How was your experience buying from Planta Greenhouses?
The representatives we dealt with were very informative and answered all of our questions during the pre-purchase phase. After doing our research, it felt like this greenhouse was a cost-effective solution for our needs and for our cold climate. The purchase and shipping went well considering that we live in a remote area (Yukon). The whole shipment was complete, nothing was missing or broken. It could be a bit tricky for people to pick up the large pallets without having access to a truck and trailer, for us it went fine for the Sungrow 10'X32".
What's your favourite thing about your Planta Greenhouse?
I like the look and how solid and durable the greenhouse feels. I am also expecting low maintenance due to the material used (metal, polycarbonate)
What did you hesitate about prior to purchasing this greenhouse?
I was looking for a larger greenhouse but the purchase and shipping costs of the larger models were prohibitive for us without being able to look at the product in person. Having access to a real set up in my area would have convinced me sooner.
What do you want to say to a person considering buying a Planta Greenhouse?
Make sure to identify your needs first and identify the right size and model. Make sure to plan for the kind of base/foundation you will need. Watch the installation videos on YouTube to understand what you are getting into. While it is repetitive and straightforward, it does take time and effort to install. If you need to hire people to help set it up, the cost will go up.
What year did you install this greenhouse?
We installed it in the summer of 2021.
Any other comments?
We live in a cold climate in Whitehorse, Yukon, Canada (Zone 2) so we design extra features to extend our growing season. We installed the greenhouse on an insulated knee-wall to increase interior height by 2 feet and built a passive thermal energy storage system underneath the greenhouse to help regulate the temperature.