We are eating food from our gardens!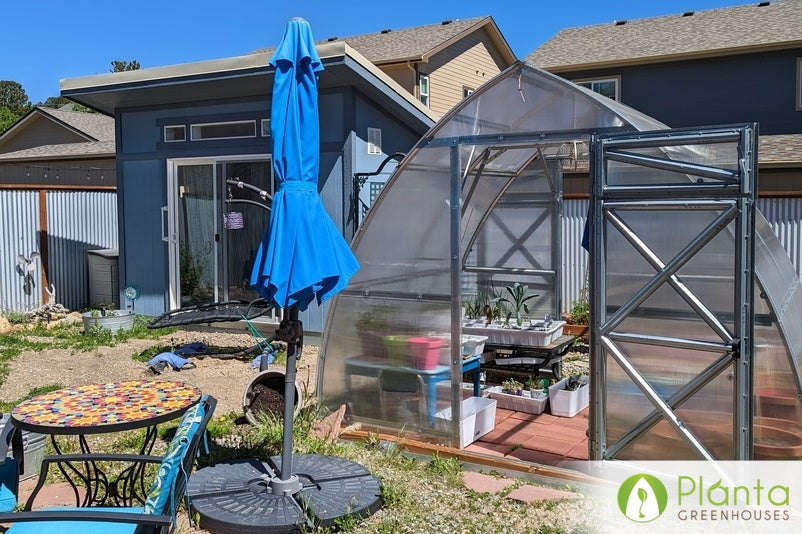 What made you get a Planta Greenhouse?
We live at 8200' in Colorado and tried to grow outdoors the first few years we lived here - it was impossible. We started to research greenhouses and Planta had such great reviews online and great specs - we knew it could withstand our winds and snow - that we made the decision to order our Sungrow Compact.

What competitors did you consider before purchasing from Planta Greenhouses?
We never looked at any serious competitors. We mostly were looking at "crap" ones at Lowe's. We thought for a time about buying materials and building our own greenhouse and then Planta came up in a search. It seemed like a reasonable cost to purchase and ship what seemed to be better quality materials than what we could find anywhere else.

Why did you choose to buy from Planta Greenhouses?
It seemed like it was a company that had been doing business for a while and provided support and the materials looked to be something that would stand up to our weather.

What do you grow inside your greenhouse?
Herbs - basil, mint, parsley, sage, chives, cilantro, dill, thyme.
Veggies - cucumbers, zucchini, bush and snap beans, chard, kale, lettuce, leeks, asparagus, cherry tomatoes.
Flower seed starts from seeds I collected from my plants growing around our yard.

How did your Planta Greenhouse improve your gardening experience?
We actually get to harvest food now! Without the greenhouse, items would grow and then die without producing anything. With the Sungrow, we are eating food from our gardens. Our plants have enough warmth to keep growing.

Having everything in one space makes it super easy to plant and then water and care for all the growing things.

What was your experience like buying from Planta Greenhouses?
It was very easy to purchase from Planta. The greenhouse moved as quickly as possible during the shipping to Colorado.

What's your favourite thing about the Planta Greenhouse?
Really my favorite thing about the greenhouse is just being in it! Walking into my greenhouse in the morning is the best part of my spring, summer, and fall days. I breathe in the humidity - which is rare up here at 8200' - and look joyfully at the new plant growth.

What would you say to a person considering purchasing a Planta Greenhouse?
Don't hesitate! Our Planta has withstood serious wind gusts and sustained wind; large amounts of snow; and our own ineptness at putting it together (which really wasn't that hard).

Anything else you'd like to add?
The Sungrow was an excellent investment and it looks adorable in our backyard.