I dreamt of having a greenhouse for years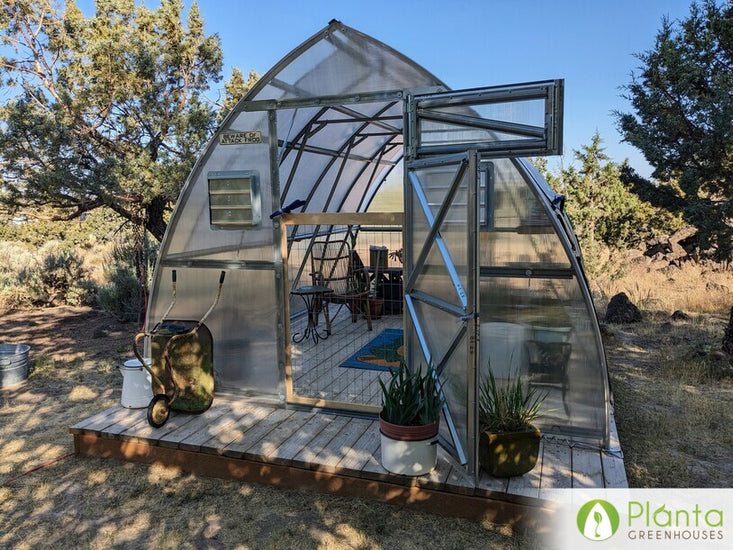 What made you get a Planta Greenhouse?
I have dreamt of having a greenhouse for years, but it never financially panned out. UNTIL late last summer after looking and doing reviews of available options, we purchased the SG Urban. SO exciting. It arrived in mid-October. My husband (72 at the time) built the decking frame, using hardy ridge foam insulation (we live in the high desert of C.O. and the ground stays cold - for most of late fall through early or later spring). We have a HARD PAN tectonic plate. The GH was up and ready to go for my birthday - May 1st. Too late for tomato starts or growing for the warm summer months, but I have been utilizing it for perennial seed starts, placing large pots so they could have a jump start and flourish, etc. We are currently installing solar fans - and have added a 50% white shade cloth. So far so good - our temps have been mid-high 80s. I am now looking to decide on what sort of raised beds to use - for fall lettuce/ bok choy and other greens.
BOTTOM line - I LOVE LOVE LOVE my greenhouse and look forward to seeing all that I can accomplish in it.

What competitors did you consider before purchasing from Planta Greenhouses?
Cannot think of anybody in particular - the selling point for Planta was the wind/ snow load factors. Wind is a normal occurrence here and we have been known to have 3-foot snowfalls in a day.

Why did you choose to buy from Planta Greenhouses?
We liked the price, the customer service (calling with questions) the design, and the features.

What do you grow inside your greenhouse?
Currently - flower starts - basil starts - blueberry pots, tomato & pepper, bronze fennel, dahlias.
Future goals: tomatoes from start, greens from start, bok choy, and whatever else intrigues me.

How did your Planta Greenhouse improve your gardening experience?
I have been gardening for 40 years -- this is just another opportunity to expand my gardening horizons and growing season time.

What was your experience like buying from Planta Greenhouses?
Easy to buy - we had challenges with shipping - Tony was awesome and very helpful when things did not arrive according to plan (shipping company issues).

What's your favourite thing about the Planta Greenhouse?
I like the energy when I walk in - and talk to my plants. Cannot wait to have the heater installed for cooler months. A place to go sit and enjoy thriving plants.

What would you say to a person considering purchasing a Planta Greenhouse?
Go for it - you will not regret it.

Anything else you'd like to add?
Not at this time - but thanks for the opportunity to share. I could go on - but I think you get the point. VERY happy customer (me).