It's a statement piece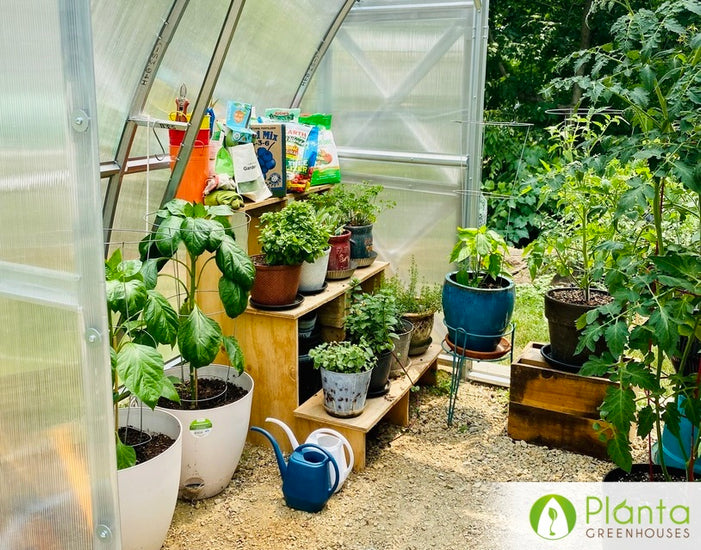 What made you get a Planta Greenhouse?
We were looking to be able to extend our growing season, and they just look really cool. We live in Wisconsin, so being able to start seeds and plants earlier in the greenhouse, and being able to have those plants produce for weeks longer, is really nice. It's also a statement piece, we get so many questions and comments!

What competitors did you consider before purchasing from Planta Greenhouses?
Costco, Home Depot, Menards. Each place had their own options, but the compact one was the one that stood up to wind and snow the best and was the perfect size.

Why did you choose to buy from Planta Greenhouses?
Seemed like the best option, the right size, wind resistant, and can handle snow. The compact one is not very square, which helps with the above. So far we have had no problems with sturdiness.

What do you grow inside your greenhouse?
We start our plants in the greenhouse from seedlings until it is warm enough to plant outside. We do keep a good variety in the greenhouse so that they will have a longer growing season. In planters, we grow herbs (basil, mint, oregano, rosemary, thyme, etc.), peppers, and tomatoes.

How did your Planta Greenhouse improve your gardening experience?
It extends our season for a month or two, making starting plants from seeds easy, since growing planets in our home doesn't work out. The plants are also able to produce for another 2-4 weeks after the plants outside die.

What was your experience like buying from Planta Greenhouses?
Buying was super easy, just add to the cart and purchase, no problems there. Delivery was very frustrating. When purchasing, we did not have the option of delivering it to our home, which was very unfortunate. We ended up having to deliver it to a local place and pick it up, but there was no tracking available, and no idea of when it might show up. It was also very unclear that if we didn't pick it up the day it arrived, we would be charged hundreds of dollars a night, no lie!

What's your favourite thing about the Planta Greenhouse?
The looks and usefulness. The greenhouse is definitely a conversation starter with anyone that walks by. It is also very useful for extending the growing season, if you love fresh fruits and veggies from your garden, this is a must-have!

What would you say to a person considering purchasing a Planta Greenhouse?
It's great, once it's all put together and useable. The delivery was a huge hassle, it was very frustrating. It is also not so easy to put together, it took 2.5 people three days, but it's definitely doable if you take your time, watch the video and read the directions.