Sturdy for our windy coastal zone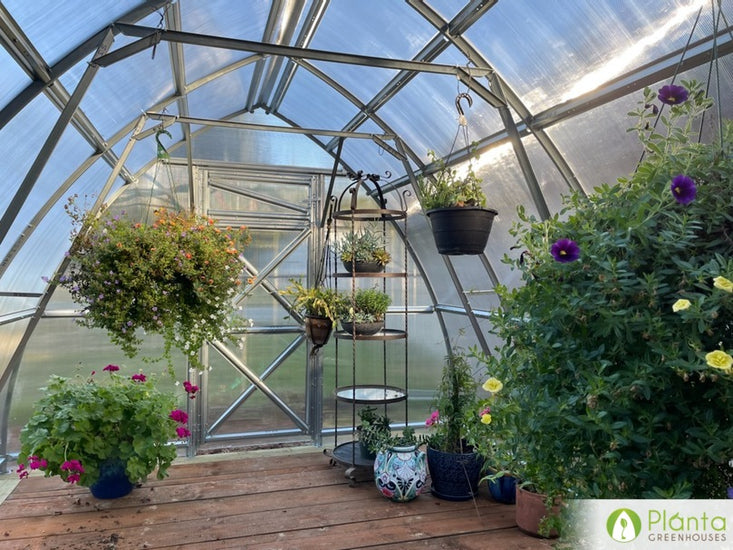 What made you get a Planta Greenhouse?
We made the decision to get the Planta Greenhouse because it does well in wind and has polycarbonate panels. We live in a windy coastal zone and wanted something sturdy.

What competitors did you consider before purchasing from Planta Greenhouses?
We looked at other Greenhouses online like SunGrow, but they were out of our price range and the Planta had better materials.

What do you grow inside your greenhouse?
My husband assembled last fall so I started out with some greens which did well. Chard, Kale, and spinach. This spring I planted carrots, tomatoes, peppers, and onions. I also planted seeds for my outside raised beds.

How did your Planta Greenhouse improve your gardening experience?
So far it's enabled us to grow a larger fall crop and also get tomatoes and basil. We are in the coastal redwoods and certain things like tomatoes cannot be grown outside of a greenhouse. Plus I can overwinter plants like my gardenias and other tender perennials.

What was your experience like buying from Planta Greenhouses?
I had a really good experience buying my Planta Greenhouse. It was delivered in a timely manner and the customer service was excellent.

What's your favourite thing about the Planta Greenhouse?
My favorite thing about the Planta Greenhouse is how sturdy it is. We have wind gusts up to 65 and 70 mph here sometimes. Those winds have not been an issue at all.

What would you say to a person considering purchasing a Planta Greenhouse?
I would encourage anyone looking for a kit greenhouse to consider the Planta. The assembly takes a while but it's worth it.