Do not wait until you are in your 70s like we are!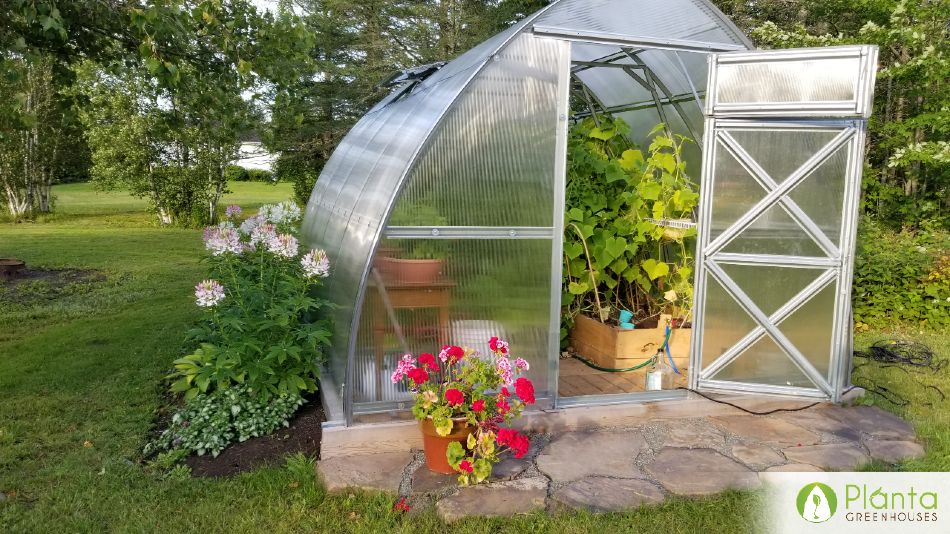 What do you grow in your greenhouse?
We assembled it in April and started using it the last of April, and the start of May. We planted lettuce, spinach, lots of flower seedlings, tomatoes, cucumber, and squash seedlings. In July we are growing tomatoes, cucumbers, zuchini, and a few beans until they are ready for the garden.
How did this greenhouse change your growing season?
It was great to start seeds of all kinds early so that they could be transplanted outside in June. I plan to grow things into November.
How was your experience buying from Planta Greenhouses?
Great service. It was wonderful to be able to call Nick if we ran into a problem that we could not solve when assembling the greenhouse.
What's your favourite thing about your Planta Greenhouse?
We have short growing seasons in NB, so it is great to be able to extend the season! We were plagued with cucumber beetles in the garden but have harvested lots of cukes from the greenhouse!
What do you want to say to a person considering buying a Planta Greenhouse?
Do not wait until you are in your 70s like we are!
What year did you install this greenhouse?
2021
Any other comments?
Assembling the greenhouse was a task, but we are pleased with the results!