Approx Size: 16' × 34' × 11.8'
The Terra Greenhouse by Planta is designed for the commercial cultivation of agricultural crops in farms. The frames are made of a special galvanized profile and have an arched shape. It consists of arched girders which are connected by purlins and end structures.
Galvanized Steel Structure
Comes with two doors (one at each end).
Heavy Duty, Rust-Resistant Frame
Snow Load Weight of 240 kg/m² (50 psf)
10 mm Double-Wall Polycarbonate Panels
Extendable length
10 Year Warranty
Regular price
$12,000 USD
Regular price
$13,250 USD
Save $1,250
Sale
Sale price
$12,000 USD
Unit price
per
Sold out
View full details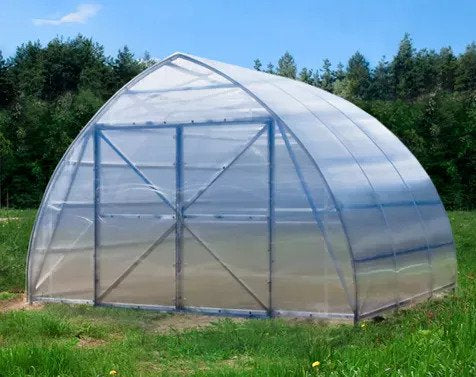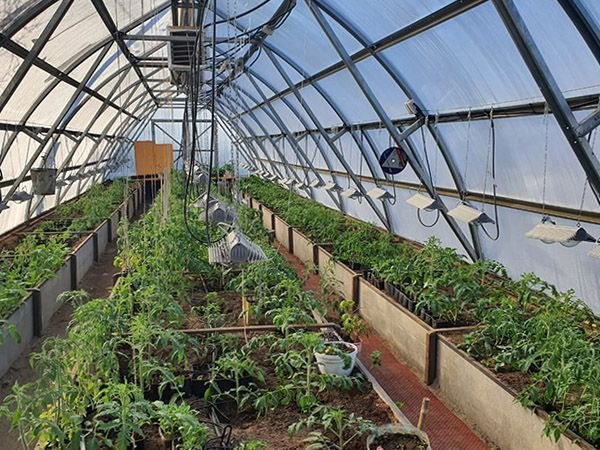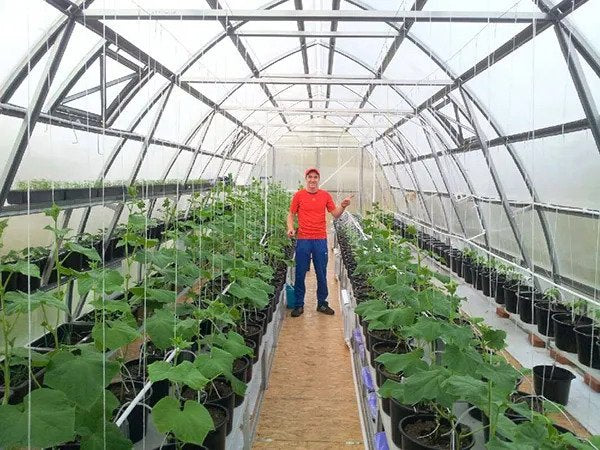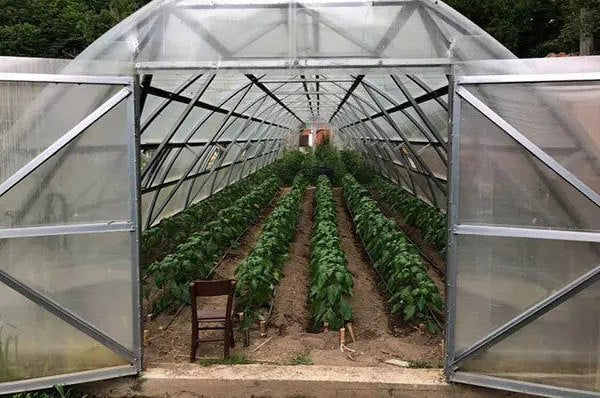 About Terra 34
The Terra greenhouse was intended for the industrial cultivation of crops at farms and peasant holdings.
Width of the greenhouse is 5.0 m. Area of covered ground depends on the length of the greenhouse and for minimal length of 4.2 m is 21 m². Height of the installed frame is 3.6 m. Required length of the greenhouse is provided by purchasing of extra packages «Insert» and adds 2.1 m to the base length .
The frame of the greenhouse is made of galvanized iron 1 mm thick and is to be assembled with screws, nuts and washers.
The greenhouse is fixed on the ground without foundation by digging special frame endings or on a fundament using cleater angles. The type of fixing is determined by a buyer. The kit includes everything you need to mount the covering.

Snow Load Up To 240 kg/m²
240 kg / m² is equal to 4 feet fresh snow layer or 2 feet packed snow layer and is maintenance free in the winter
More About PSF
Wind Resistant up to 24m/s
Sturdy greenhouse construction that resists winds up to 24m/s
Extendable & Customizable
This greenhouse can be extended with additional expansion kits
Shipping
Planta Greenhouses is dedicated to deliver your order promptly, so you can begin using your greenhouse products right away.
Because greenhouses are packaged in large boxes, they have unique shipping requirements, including: 
We will contact you to confirm shipping price, based on your location and order size.
Shipping on most orders is between $250 and $450. Deliveries to remote areas may cost extra.
When you place your order, please make sure to enter the correct Phone and Address at checkout. You will be contacted by phone before the item is shipped. We cannot be responsible for deliveries to incorrect addresses.
As part of the delivery process, we require a contactable telephone number (for the courier company to contact you) before the item is shipped.
We will make every effort to ship your order in the fastest possible manner, and by the mode of transportation that you specify; however, in the event of no specific instructions, we will use our judgment and ship the best, fastest and most economical way. We are not responsible for delayed delivery due to conditions beyond our control.
We do not ship to PO Boxes, as in most cases you will need to sign for your item. 
White glove delivery service isn't available. The greenhouse components are delivered in multiple boxes, the largest of which weighs 80lbs. The greenhouse will be delivered to your driveway. Please make arrangements to have the package moved to its installation location. 
Orders placed on weekends and public holidays will be processed the next business day.