Creann from Ottawa, Ontario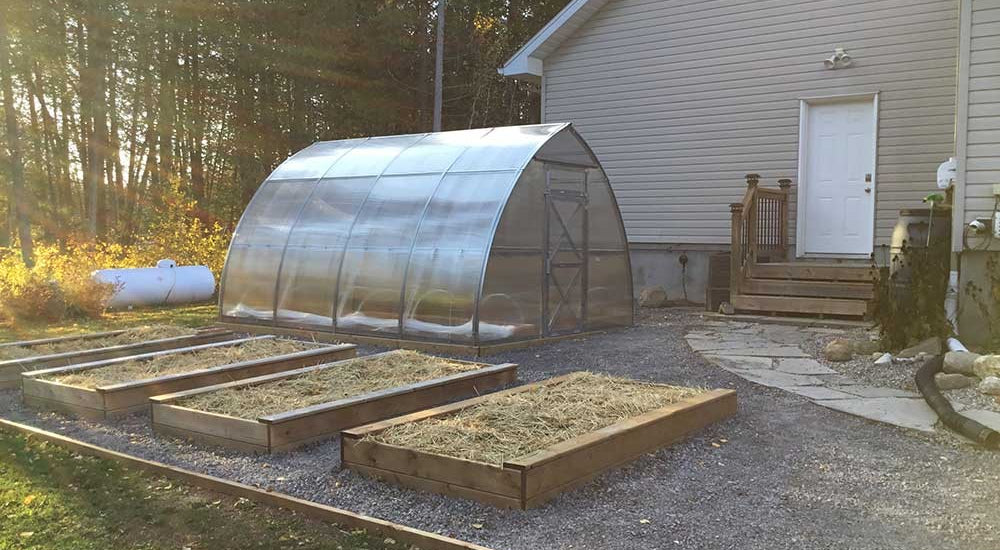 Love my greenhouse!
Currently growing Spinach, Endive, Lettuce, Mizuna, Swiss Chard, Kale, Carrots plus the pots I have brought in with celery and herbs. The plan is for Tomatoes, cucumber, chilli and bell peppers in the summer.
Hopefully with raised beds and row covers inside it will allow me to grow cool season greens throughout the winter, although we did have a bit of a late start ;)
I just love the shape, and I love hiding in there - I keep threatening to take my wine out there with me!
The instructions aren't always entirely clear so be prepared to scratch your head sometimes during the build. And make sure to read them several times before doing anything, wemade a couple of errors and a couple of the cut pieces weren't a great fit, but we worked around it. It took two of us a couple of full days to construct, but we are pretty handy and both had drill/drivers! :D
Before and after...Photos taken early evening so the sun is off the greenhouse now and the landscaping is a work in progress.
We are allowing the snow to compact the GA and then we will put down pea gravel in the spring.
I sunk R10 insulation to 18" below ground level around the perimeter and there is also some on the outer edge of the four 3x6 beds just to provide extra warmth for the soil.
Our contractor bailed on us so the whole area was dug with shovels by me and my husband, and of course we discovered multiple boulders and the burn pile from when the house was constructed exactly where we were placing it.
From start to finish the whole project took about 15 days including some rain days during the actual greenhouse construction. Hard work but definitely worth it!
Thanks again!
Creann