Roses & Peppers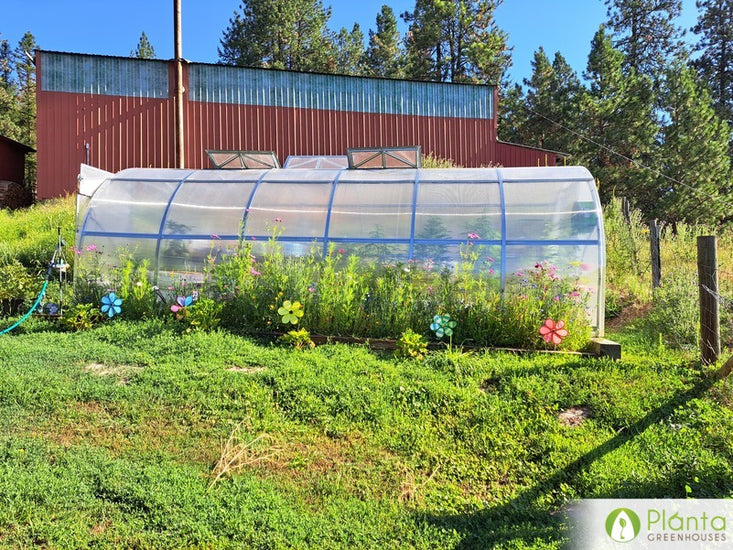 What made you get a Planta Greenhouse?
Planta greenhouse reviews and styles helped me make my decision in the purchase of my Sigma 20.

What competitors did you consider before purchasing from Planta Greenhouses?
I considered a few other kits and building a greenhouse. We decided that this kit suited our needs well.

Why did you choose to buy from Planta Greenhouses?
I chose to buy from Planta because I liked the Sigma 20, the ability to expand on it, and the customer support/service.

What do you grow inside your greenhouse?
This will be my first summer with the greenhouse complete enough to grow something in. I have not had time this year to plant or grow anything other than roses and peppers. The greenhouse is a bit of storage otherwise.

How did your Planta Greenhouse improve your gardening experience?
My peppers and roses were able to get a much earlier start than if planted outside. We have long winters and the greenhouse gave me a lot more growing time.

What was your experience like buying from Planta Greenhouses?
Customer service was nice. We did have a bit of a shipping issue, but it was handled by Planta quickly. We got confused on a part during setup and called customer support and got the help we needed.

What's your favourite thing about the Planta Greenhouse?
I purchased four automatic window openers. I absolutely love them! I love that the windows open and close and I do not need to worry about the weather. I love having the greenhouse and can't wait to finish shelves and planting boxes for next year.

What would you say to a person considering purchasing a Planta Greenhouse?
The Planta is a great greenhouse. The instructions can be a little difficult to follow at first, but once you "get it" you will have it built in no time.