100°F Inside in Sunny Winter Days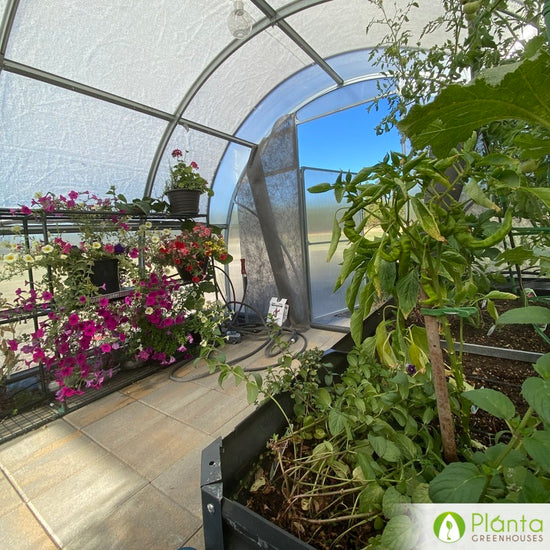 What made you get a Planta Greenhouse?
It's design. There are strong winds and lots of snow in my location. I was hoping this greenhouse would hold up.

What competitors did you consider before purchasing from Planta Greenhouses?
Local big box stores and Climapod.

Why did you choose to buy from Planta Greenhouses?
It looked sturdy and had a good price. I bought it on sale in late winter.

What do you grow inside your greenhouse?
Giant petunias, tomatoes, peppers, basil, cucumbers, beets, cabbage, squash, beans, peas, succulents, flowers and a fern. Most are trial and error to see what works right now.

How did your Planta Greenhouse improve your gardening experience?
I wasn't able to grow hardly anything. There are hard freezes even in July sometimes. Elk, deer, rabbits, and squirrels take out whatever survives the cold and wind.

What was your experience like buying from Planta Greenhouses?
It was easy to buy online. I had a couple of questions after receiving it that were promptly answered. Customer service was friendly and helpful.

What's your favourite thing about the Planta Greenhouse?
It's hard to say what I like best. Being able to grow big beautiful plants is great, but my husband and I really enjoyed using it as a sunroom in the winter. Deep snow outside and 100 degrees inside on a sunny day.

What would you say to a person considering purchasing a Planta Greenhouse?
It's a good quality greenhouse and I would buy it again.

Anything else you'd like to add?
We have had fun with this project. Friends and family who visit all want one. We used pavers for the floor and brought in electricity and water. It's a great place to escape cabin fever!