I wish I had room for a second one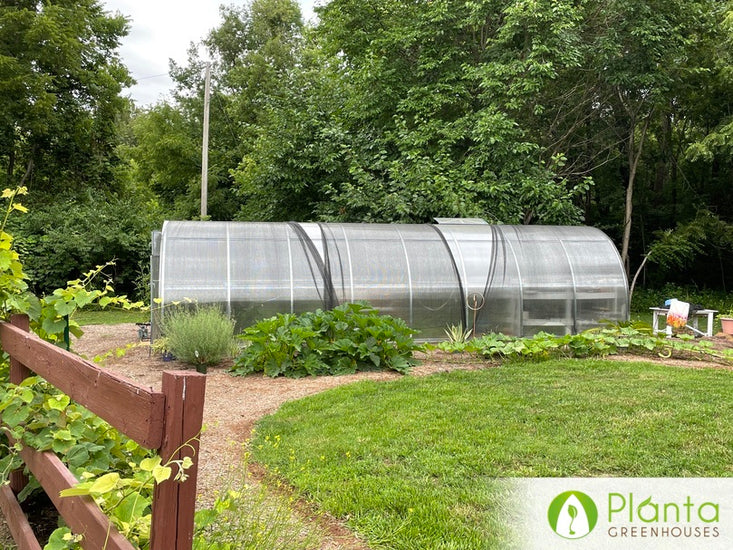 What made you get a Planta Greenhouse?
I had multiple reasons for getting a Planta greenhouse. Durability and longevity, aesthetics, and size options. I was also looking for a Greenhouse that was not made overseas.

What competitors did you consider before purchasing from Planta Greenhouses?
Yoder Greenhouses and Riverstone.

Why did you choose to buy from Planta Greenhouses?
Planta had the style and size I was looking for. I was impressed with the reviews of its durability regarding wind and snow load. I was most interested in functionality and longevity. Both of which Planta is known for.

What do you grow inside your greenhouse?
Besides overwintering, a significant number of plants and starting seeds in spring, I grow cucumbers, tomatoes, Swiss chard, spinach, peas, and lettuce in my greenhouse.

How did your Planta Greenhouse improve your gardening experience?
My plants were much heartier when it was time to plant them out in spring, and I had room to start more seedlings as opposed to purchasing them.

What was your experience like buying from Planta Greenhouses?
Purchasing from Planta was very easy. I received one damaged box with slightly damaged contents. And had an excellent customer service experience in taking care of the situation.

What's your favourite thing about the Planta Greenhouse?
I live on the Dutch doors of my Planta greenhouse. I can be in the greenhouse in any season and have the top of the doors open and not harm any young or fragile plants.

What would you say to a person considering purchasing a Planta Greenhouse?
I love my Planta Greenhouse! It was worth every penny. I wish I had room for a second one.

Anything else you'd like to add?
I spend every morning in my greenhouse, no matter what the weather. It is my absolute favorite place to be! I wish I had bought one years ago.