My fav spot to have tea and coffee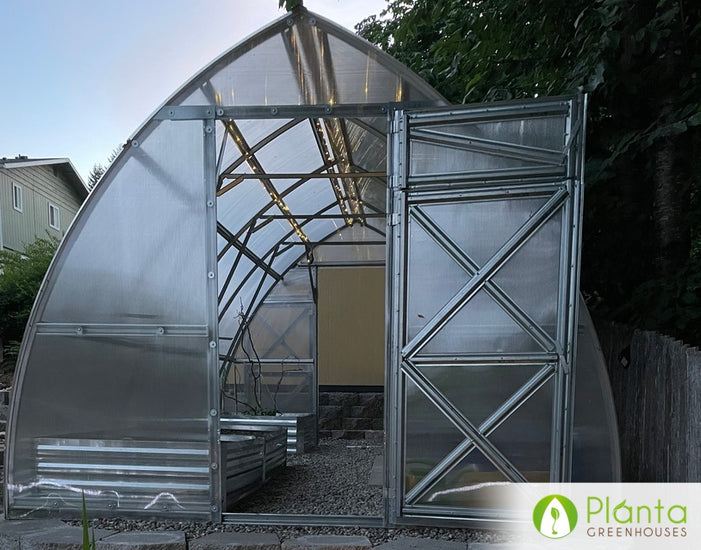 What made you get a Planta Greenhouse?
To extend the length of the garden season and create better starts. Also used as a spot to have tea and coffee.

What competitors did you consider before purchasing from Planta Greenhouses?
None really. I was sold on your product the moment I saw the design and read the reviews.

Why did you choose to buy from Planta Greenhouses?
Product design, positive reviews, strength, and durability. Company reputation online is supported.

What do you grow inside your greenhouse?
Salsa garden, herbs, different mints, loofa. I also winter my bananas and large leaf acacias in it. I have been starting all of my starts in here.

How did your Planta Greenhouse improve your gardening experience?
It has allowed me to start my starts earlier, making them much stronger before I plant them elsewhere. My plants are much stronger, more successful, and have had better production.

What was your experience like buying from Planta Greenhouses?
I purchased it online. It was very easy to provide this way. I did not require any customer service because the greenhouse was delivered timely and the instructions were easy to follow.

What's your favourite thing about the Planta Greenhouse?
I love the design aesthetic, the size, and durability. The whole process purchasing to installing was very easy and exciting. We love this thing!!!

What would you say to a person considering purchasing a Planta Greenhouse?
I would definitely recommend this company. The product is amazing and the variety of designs is exceptional.

Anything else you'd like to add?
Thank you for making such a great product!