The harvest is very impressive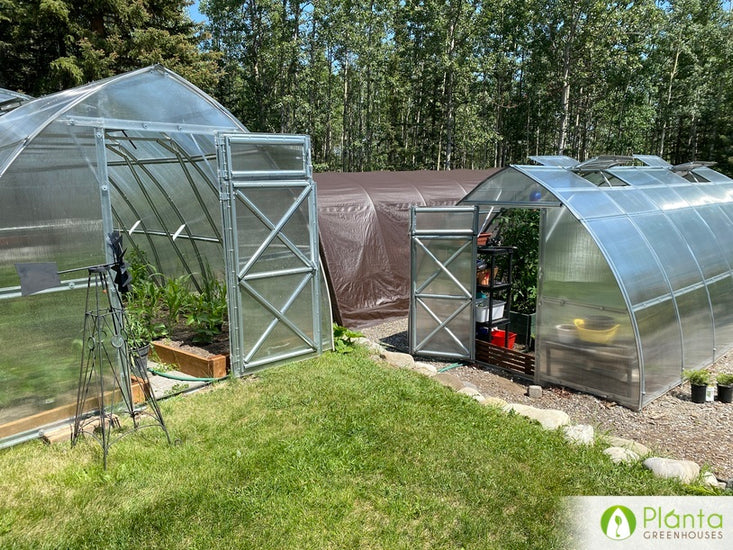 What do you grow in your greenhouse?
We have two greenhouses, purchased one year apart. We grow mainly garden vegetables -- lots of tomatoes but also other garden plants -- beans, corn, kale, dill, beets, carrots, spinach, peppers, and also an assortment of perennials. Last year we experimented with some flower vines too -- sweet peas, morning glories, and climbing nasturtiums.

What other brands did you consider before deciding to go with a Planta Greenhouse?
None. The research told us this is the main one used in our area and it withstands winter cold, wind, and cold.

How was your online shopping experience like buying from Planta Greenhouses?
Fantastic -- and the experience was fully backed up by staff on site to ensure delivery to our place and help with questions or missing parts.

How did this greenhouse change your gardening experience?
The growing season in Bragg Creek is shorter and cooler than sufficient for gardening but with the greenhouse, we are very pleased with our first-year tomato harvest and now this year with our full garden growth. Without the greenhouse, the deer would eat the crops even in a hot enough year. The greenhouses allow us to continue with our gardening lifestyles -- the harvest is very impressive.

What's your favourite thing about the greenhouse?
Perfect size for our needs. Easy to fully use the space and set up for timed irrigation. The greenhouse is so nice to walk through and enjoy the "fruits and vegetables" of our labours.