Well-built, sturdy and cool design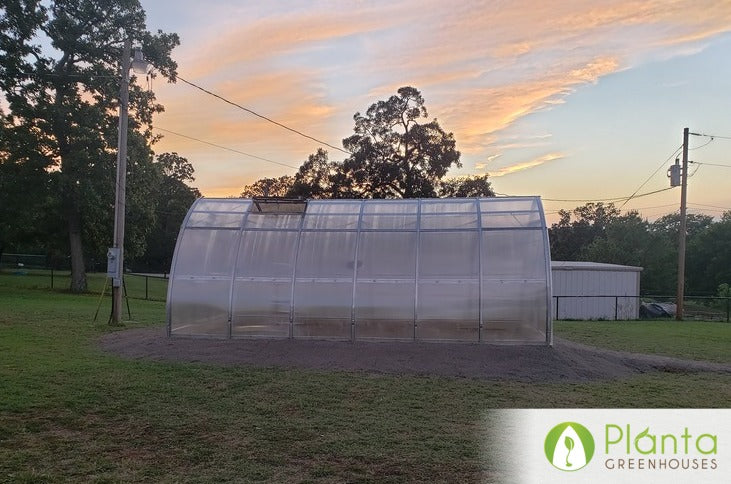 What made you get a Planta Greenhouse?
It can be quite windy where I live and I needed something that would hold up. I researched and this looked to be the best design and able to withstand winds and snow.

What competitors did you consider before purchasing from Planta Greenhouses?
Palram, RIGA, harbor freight, Yardistry.

Why did you choose to buy from Planta Greenhouses?
It could withstand up to 60 mph winds and showed people sitting on it. That was the selling point. You don't want to make that kind of investment and see it in a neighbor's yard after very strong winds.
I also loved the design!

What do you grow inside your greenhouse?
I have grown lettuce, celery, squash, beets, tomatoes, potatoes, and herbs.

How did your Planta Greenhouse improve your gardening experience?
I never truly enjoyed gardening outside. You have to fight animals, bugs, and weeds. My tomato plants never did that well. In the greenhouse, everything thrived with much less effort.

What was your experience like buying from Planta Greenhouses?
It was a great experience. It shipped and arrived with no problems. When I did have a question after it was put together, they replied quickly.

What's your favourite thing about the Planta Greenhouse?
That it has allowed me to have tomatoes the whole winter in Oklahoma. I even have a chair in the greenhouse so I can enjoy it while it is cold outside.

What would you say to a person considering purchasing a Planta Greenhouse?
It is worth it! If you are looking for a well-built, sturdy, and cool design, this is the one. I have had it for 1 year now and am so happy I purchased this greenhouse.

Anything else you'd like to add?
I can't say enough how pleased I am with it. I look forward to many winters of fresh produce.