We grow all our garden plants from seeds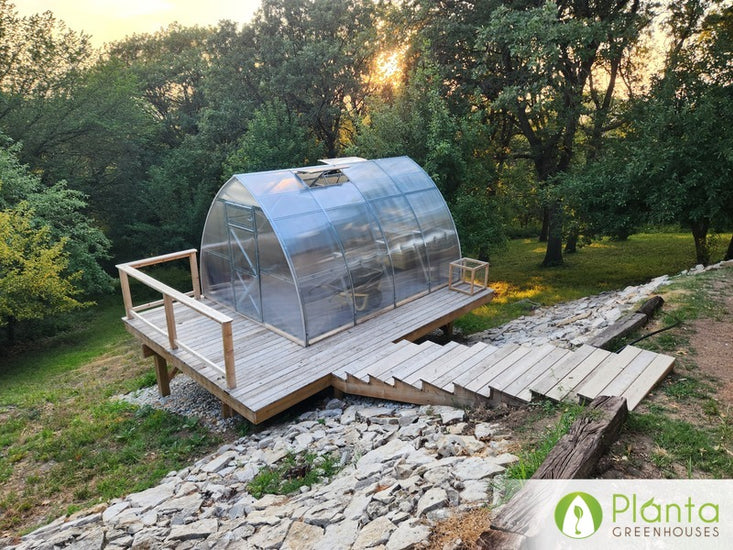 What made you get a Planta Greenhouse?
We grow all our garden plants from seeds, so we wanted to extend our growing season.

What competitors did you consider before purchasing from Planta Greenhouses?
We only considered reusing storm windows and a stick frame, but Planta was a cost-effective alternative.

Why did you choose to buy from Planta Greenhouses?
Form, function, and price.

What do you grow inside your greenhouse?
We start everything in our garden in our Planta greenhouse - Beans, corn, melons, tomatoes, strawberries, peppers, cukes, zukes, potatoes, carrots, and all our herbs.

How did your Planta Greenhouse improve your gardening experience?
It is a great way to get the early start you need on seedlings. Plus, it makes for a great solar wood kiln to dry firewood in the summer when all our food is in the ground in the garden.

What was your experience like buying from Planta Greenhouses?
Buying a Planta greenhouse was really easy. Delivery was on time, and everything we needed was included.

What's your favourite thing about the Planta Greenhouse?
Our favorite things are form and function. In Eastern Nebraska, we have a lot of wind and sometimes a lot of snow. The Planta greenhouse form sheds both without any issue. For the footprint, there is plenty of space, and as soon as the sun hits it, it warms up quickly. Automatic venting performs flawlessly.

What would you say to a person considering purchasing a Planta Greenhouse?
Get one!