Harvesting Fresh Vegetables for Thanksgiving Dinner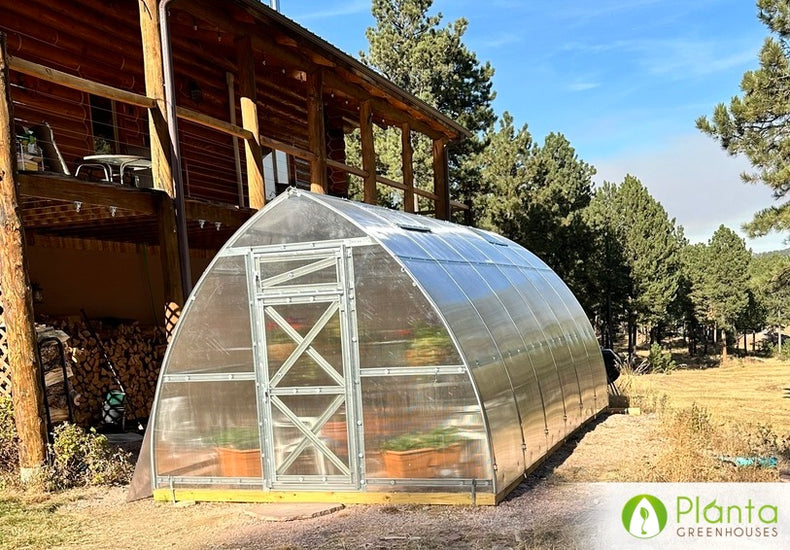 What made you get a Planta Greenhouse?
Our growing season is very short at 6000' elevation. We live near the National Forest and have all the critters who live there visit our yard. We really wanted a greenhouse. Our fenced-in gardens just didn't produce as we had hoped after living here for 5 years.

What competitors did you consider before purchasing from Planta Greenhouses?
We looked into kits from the big box stores. Our daughter had one and the wind took some panels off over and over again. Our Planta doesn't have that problem.

Why did you choose to buy from Planta Greenhouses?
We thought the design was exceptional for our climate of snow, wind, and hail. And the price was affordable compared to kits that didn't offer this kind of durability.

What do you grow inside your greenhouse?
It's great to have a place to start seeds early. We have tomatoes, string beans, kale, radishes, romaine lettuce, cucumbers, basil, parsley, and dill. Plus all the flowers that went into hanging baskets for the deck: pansies, petunias, nasturtiums; peppermint and spearmint, rosemary, thyme, and oregano.

How did your Planta Greenhouse improve your gardening experience?
We are able to start seeds in April and still harvest vegetables for Thanksgiving Dinner.

What was your experience like buying from Planta Greenhouses?
We bought our kit during a sale but asked to have it held until mid-summer. During construction, we opened a box of panels that had a wrinkled corner. The panels were indeed damaged. We phoned the company and they sent a new box out right away.

What's your favourite thing about the Planta Greenhouse?
We added the temperature-controlled windows. They are wonderful to have. Often times we leave the windows above the doors open all night. During the day I can count on the other windows to open and close as needed.

What would you say to a person considering purchasing a Planta Greenhouse?
Several of our friends are now placing orders. This is the most durably constructed greenhouse they've seen. It sells itself.

Anything else you'd like to add?
Wonderful product. Highly recommend it!