Impressed by its quality and durability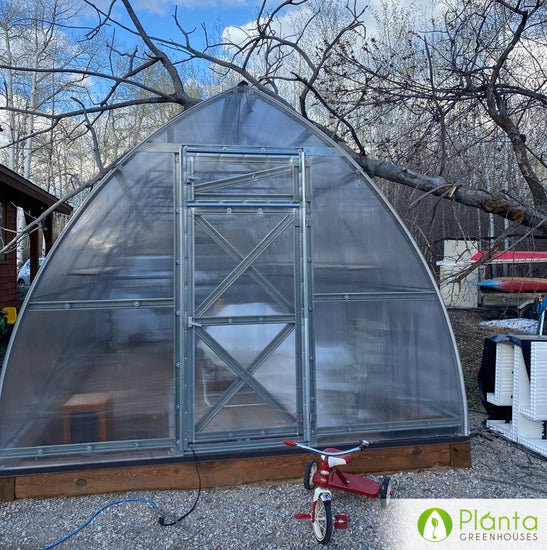 What made you get a Planta Greenhouse?
We live at 6300 feet in Teton Valley, Idaho. The winters are long & cold with lots of snow. We were impressed by the quality and durability of the materials used in a Planta greenhouse and felt they were well-suited to stand up to our weather.

What competitors did you consider before purchasing from Planta Greenhouses?
Honestly, we found you early in our search and never found another company that seemed to compare in quality!

Why did you choose to buy from Planta Greenhouses?
Planta offered the best product. My husband is a General Contractor and felt that Planta Greenhouses were structurally the best greenhouses offered and that the materials were sturdy and of good quality.

What do you grow inside your greenhouse?
We grow lettuce, spinach, radishes, beets, carrots, pumpkins, green beans, zucchini, cucumber, strawberries, peas, onion, herbs, and flowers.

How did your Planta Greenhouse improve your gardening experience?
Our growing season is so short here - we generally aren't past the last frost until June 1st. I moved my seedlings out to our Planta greenhouse in mid-April, so we gained 6 weeks of growing season!

What was your experience like buying from Planta Greenhouses?
Easy to purchase, delivery time was good. The assembly was a little tough in the beginning, but after the first section, things went smoothly.

What's your favourite thing about the Planta Greenhouse?
Well, we had a late frost this year - well into June. My plants in the greenhouse cruised through the night at neatly 50 degrees. We had a hailstorm just last week and my flowers outside were shredded.
Everything in the greenhouse was fine. So great!

What would you say to a person considering purchasing a Planta Greenhouse?
Do it!

Anything else you'd like to add?
We had a good-sized aspen tree fall on the greenhouse. My husband saw it fall and I was afraid to go outside and look! The branches punched a couple of holes in the panels, but structurally, the Planta came through like a champ! Wow!