Wind, Deer & Rabbit-Proof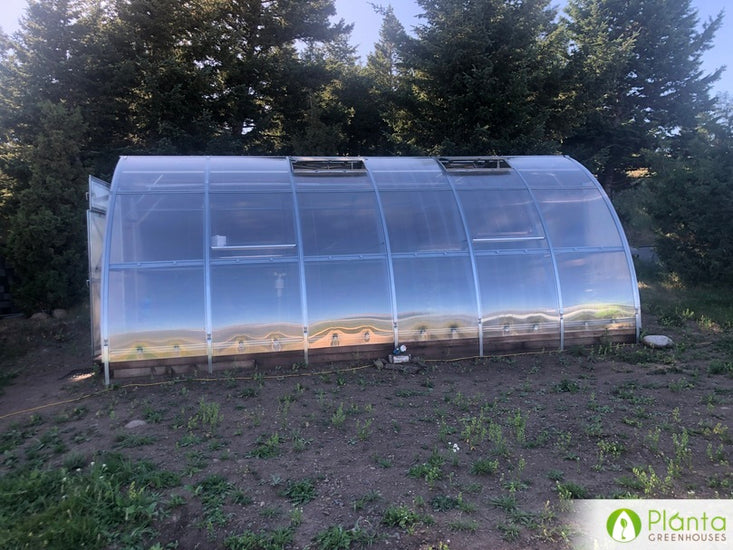 What made you get a Planta Greenhouse?
To extend the growing season in Montana. To protect the plants from the wind and late snow. I liked the warranty that comes with Planta. I like the design. It looks like a Cathedral.

What competitors did you consider before purchasing from Planta Greenhouses?
A local designer who makes custom greenhouses but his didn't come with a warranty like Planta. We have high winds here and the warranty was important.

Why did you choose to buy from Planta Greenhouses?
Because of the Cathedral design, the warranty, and the automatic bee pollen windows.

What do you grow inside your greenhouse?
We have zucchini and crookneck squash. We have pumpkin and Blue Hubbard squash. We have cucumbers, onions, chives, lettuce, bell peppers, seven different varieties of tomatoes, broccoli, cabbage, radish, carrots, chili peppers, celery, beets, marigolds, sunflowers, dill, basil, and strawberries.

How did your Planta Greenhouse improve your gardening experience?
I was able to start growing earlier in the season. I was able to increase the daytime heat. I am stringing up the tomatoes vertically to the top of the greenhouse for better yield. I am able to keep out the deer and rabbits.

What was your experience like buying from Planta Greenhouses?
Customer service has been great. When the incorrect windows were shipped, they sent a return call tag and sent out the correct ones right away.

What's your favourite thing about the Planta Greenhouse?
All my plants are protected from the wind, and deer and rabbits. The temperature inside is always a little warmer than outdoors.

What would you say to a person considering purchasing a Planta Greenhouse?
Absolutely buy it!!!

Anything else you'd like to add?
We built our own screen doors. In the future, you might carry a screen door or half a door to keep out the animals and allow pollinators to enter.