Love the fresh smell of plants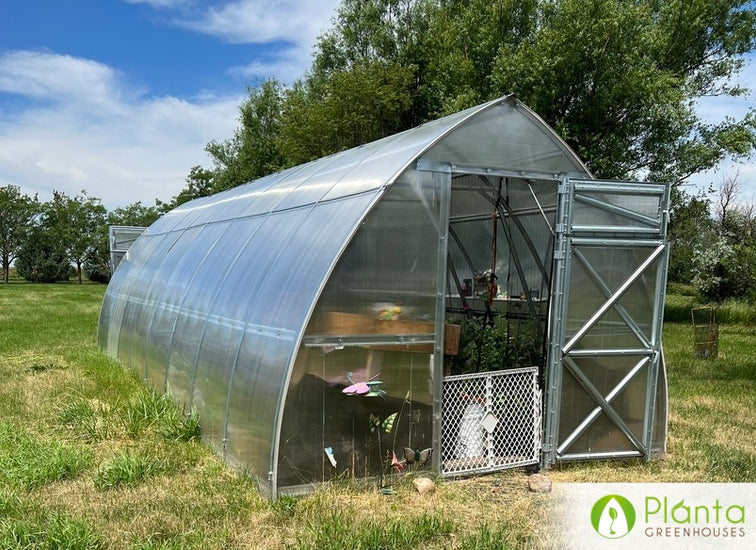 What made you get a Planta Greenhouse?
To have a longer growing season and to protect plants from pests and outdoor crop sprays.

What competitors did you consider before purchasing from Planta Greenhouses?
Menards, eBay, Amazon.

Why did you choose to buy from Planta Greenhouses?
High wind protection and cold weather climate. Planta Greenhouse had knowledgeable staff to answer my questions. They were helpful.

What do you grow inside your greenhouse?
I'm growing Grapes raspberries rhubarb tomatoes squash eggplant potatoes strawberries lettuce beets spinach. Fresh herbs. Peppers and asparagus. Swiss chard.

How did your Planta Greenhouse improve your gardening experience?
I'm still learning what works best but I enjoy being out of the weather. Not having mosquitoes and flies while gardening is a relief. We have high winds so it's been nice not having the wind. I put a fan on during the hot days to help keep it cool and had a small heater running in winter to extend the growing season.

What was your experience like buying from Planta Greenhouses?
It was easy to use the website. I was impressed with all the products offered. Customer service was great they were knowledgeable and helpful. Great reasonable prices.

What's your favourite thing about the Planta Greenhouse?
The warm temperature of the greenhouse even when it was cold outside. It was windy and miserable but stepping into a warm greenhouse was amazing. I have beach sand on the walk path which is fun to go barefoot during cold days. Love the fresh smell of plants.

What would you say to a person considering purchasing a Planta Greenhouse?
Make sure you have the time to take care of it. It is worth the financial investment. Very good quality.

Anything else you'd like to add?
A built-in bug screen door would be a nice added feature to keep any flies out. Some shade cloth options to roll in or out like a blind would be ideal.