It has increased our property value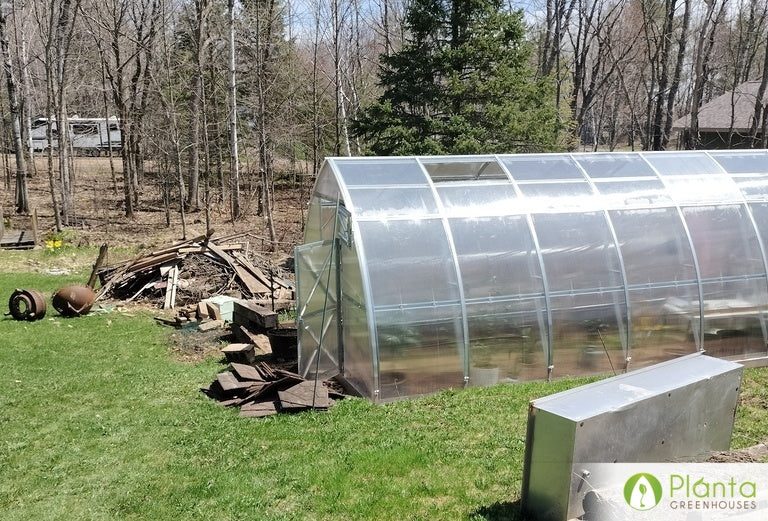 What made you get a Planta Greenhouse?
After reviewing several brands and researching their durability and quality, we wanted a greenhouse that could withstand our northern Minnesota winters. Planta has a 10-year warranty and can withstand snowfall.

What competitors did you consider before purchasing from Planta Greenhouses?
We looked into the smaller, local retail stores like Menard's, L&M, Home Depot for similar ones but found none with the warranty length or the detailed set-up instructions and videos.

Why did you choose to buy from Planta Greenhouses?
The reviews on the website were excellent and the design concepts were good. I saw that several people in the upper US and Canada had given it high marks on surviving the cold and snow.

What do you grow inside your greenhouse?
Tomatoes, onions, spinach, basil, carrots, cucumbers, potatoes, so far...

How did your Planta Greenhouse improve your gardening experience?
I am eager to see how much longer of a growing season I can have. I couldn't get started as early in the spring this year because of the longest winter on record. I couldn't get to the greenhouse because of the long path with three feet of snow this year!

What was your experience like buying from Planta Greenhouses?
Great! It was easy to order online, and the tracking and delivery were easy, allowing for prompt responses. The customer service was excellent as well, with email notifications, phone calls for delivery details, and offering follow-up service as needed, but none was required.

What's your favourite thing about the Planta Greenhouse?
I liked the installation videos, and step-step with written instructions as well. Plus a phone number, just in case. I like the doors on each end with the windows above the door. The look is good too.

What would you say to a person considering purchasing a Planta Greenhouse?
It's well worth the money! I look forward to using it for many years! It has increased our property value.

Anything else you'd like to add?
The tape used to seal the ends of the panels is very wimpy. It doesn't hold up well. It was already losing its adhesion by the time we were putting the panels into place. We bought our own from the hardware store.