It's a place of solace and warmth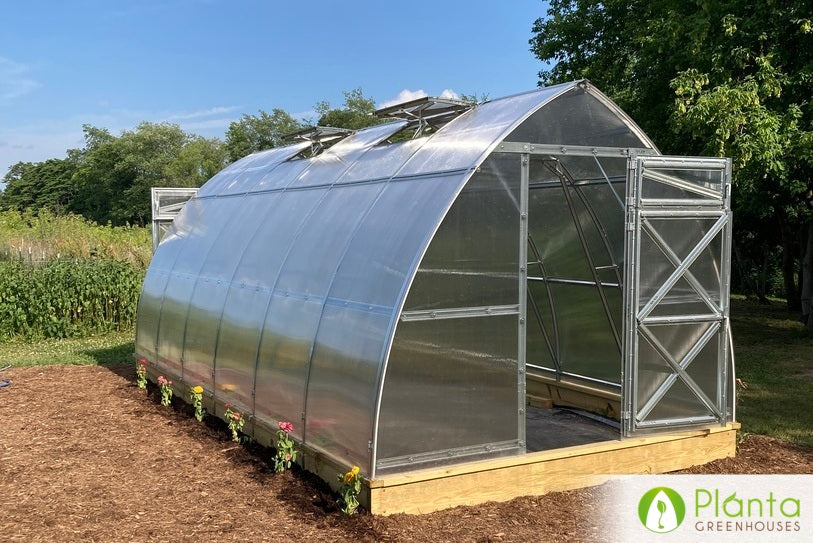 What made you get a Planta Greenhouse?
The reviews and wind ratings, the material it is made of, and the fact you can add on expansion kits if you went too small!

What competitors did you consider before purchasing from Planta Greenhouses?
We looked at some other smaller options on Amazon but none were as high quality.

Why did you choose to buy from Planta Greenhouses?
Because we wanted to be able to plant in the ground in the greenhouse and in something that would last many years so the smaller flimsy products were not an option. We also have high winds sometimes so we needed something that would withstand snow and wind.

What do you grow inside your greenhouse?
Cabbage, garlic, tomatoes, broccoli, peppers, seedlings, houseplants, succulents, cucumber, and carrots so far!

How did your Planta Greenhouse improve your gardening experience?
The greenhouse has become one of my favorite places. It's a place of solace and warmth when the garden season would normally have come to a close in the past here in Michigan. It's been so interesting to see how I can extend the garden season and experiment with what can be grown and for how long. I've also used it as a mediation space and it brings so much joy!

What was your experience like buying from Planta Greenhouses?
It was very easy to buy and we were able to save on shipping by picking up in person from the shipping dock.

What's your favourite thing about the Planta Greenhouse?
I love the automatic vents, they are key to keeping the temperature regulated even when I may not be able to run out and open the doors. I also love the shape of the greenhouse and the options to have a shelf, hanging plants, and in-ground planting all in one structure.

What would you say to a person considering purchasing a Planta Greenhouse?
Absolutely do it, prepare for a bit of a lengthy building process but it's all worth it. Definitely go as big as you can, it's easy to fill it up!

Anything else you'd like to add?
Thanks, Planta for providing my favorite "room" of the house.