It kept on going even in -40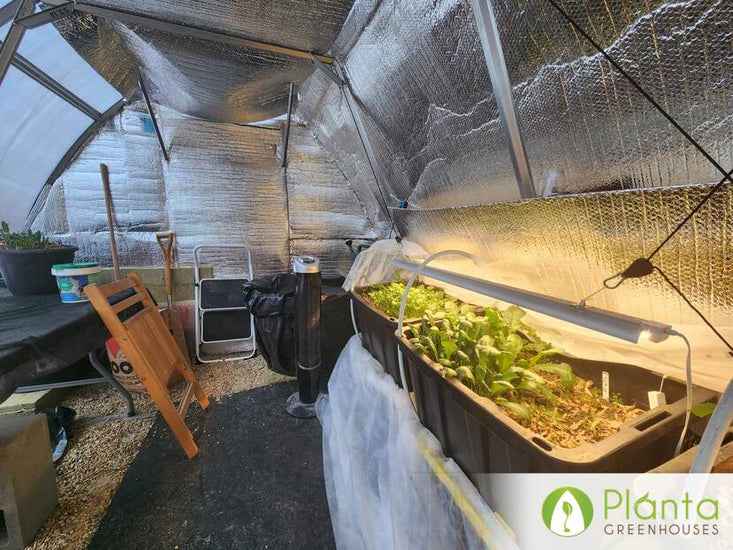 What do you grow in your greenhouse?
Our greenhouse is a little bit different we use it as a Research and Development Greenhouse for the charity Green Iglu, where I am the Executive Director. We completed the build in October of 2022, planted seeds in November of 2022, and harvested enough greens for 13 people to have at Christmas Dinner in December! It kept on going all winter, even in -40.

We insulated the North wall with reflective insulation and used black bins and a black water trough to add thermal mass. We have grown lettuce, arugula, kale, spinach, radishes, garlic, tomatoes, broccoli, and cauliflower. We love ours so much that we
are also using them in the remote communities we work in. This year we are building them in Bilijk, NB; Kinngait, NU; Enterprise, NT; Siksika, AB; Whati, NT; and more!

What other brands did you consider before deciding to go with a Planta Greenhouse?
We also build Geodesic domes from Arctic Acres, and we were looking for a lower-cost option for communities with smaller budgets. We checked out a LOT of brands, before settling on Planta. We really liked their commitment to their customers, and while we have had some frustrations with the assembly, we also have had excellent technician advice.

How was your online shopping experience like buying from Planta Greenhouses?
Excellent - but then, we buy multiples - so we have an account manager. Paulette and Nick are excellent, helpful, and we appreciate all they do to make sure we order all the things we need and nothing we don't.

How did this greenhouse change your gardening experience?
It has meant that more food-insecure communities can experience year-round growing, for a low cost.

What's your favourite thing about the greenhouse?
Personally, I love that once it is done the maintenance is minimal.