The best engineering design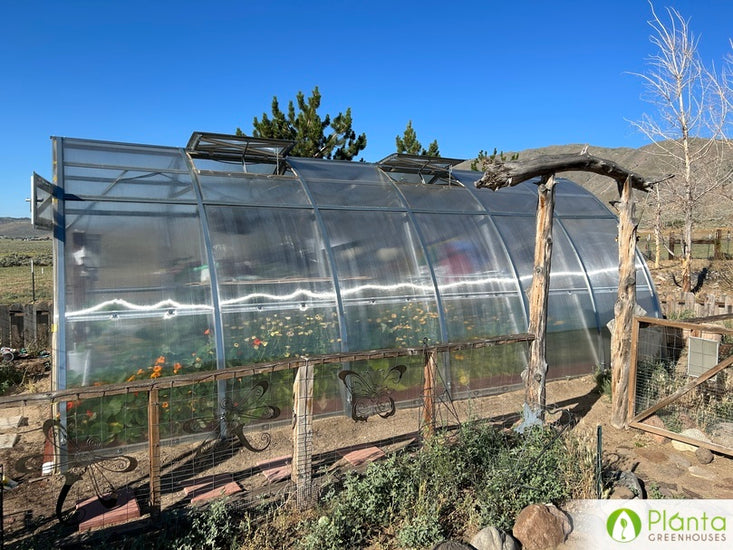 What made you get a Planta Greenhouse?
I live in the high desert of Nevada. We regularly have 25-75 mph winds and periodically have several feet of snow. After much analysis, PLANTA offered the best engineering design.

What competitors did you consider before purchasing from Planta Greenhouses?
Pretty much all of them that I could find on the internet.

Why did you choose to buy from Planta Greenhouses?
I needed a design that I could erect myself that did not exceed my limited physical capabilities and challenged my mechanical capabilities.

What do you grow inside your greenhouse?
My wife grows flowers and vegetables. The temperatures in the high desert are quite variable. In the spring and summer, they swing from 35 degrees at night to 105 degrees during the day. Growing periods can be from March to November or July to September. One never knows. Although we have 85% - 95% sunlight.

How did your Planta Greenhouse improve your gardening experience?
Unexpected and untimely freezes, frosts, winds, and very low humidity create a challenging growing environment. These events can occur at any time or month. Weather forecasts do little to predict impending events.

What was your experience like buying from Planta Greenhouses?
The purchase experience was easy and posed no surprise. All parts arrived without damage and the shipment was complete.

What's your favourite thing about the Planta Greenhouse?
I would rate the assembly instructions to be 9.5/10. Some of the drawings could use a little help but I am not sure if my inadequacy contributed to my confusion.

What would you say to a person considering purchasing a Planta Greenhouse?
As recommended by PLANTA, my project was clearly a 2-person project. I did it all myself which in retrospect I should have solicited a helper. Most important is that the ground preparation must be accomplished properly. The engineering work is so tight that imperfections in site development come back to haunt the assembly process.

Anything else you'd like to add?
First, the entire project was involved but fun for a guy like me. All the parts fit as they were designed to do. Purchasing the additional automatic roof openers was a must for me. Purchasing the additional air heater/ blower was also a must. I added lights and water which for me required a significant $ investment in electrical work.