It looks great!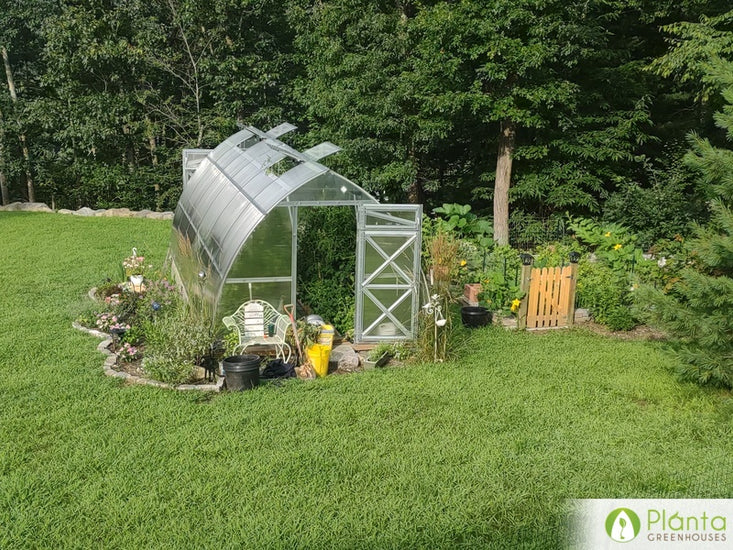 What made you get a Planta Greenhouse?
We were looking for an attractive and sturdy greenhouse and decided the Sungrow 20 fit our needs.

What competitors did you consider before purchasing from Planta Greenhouses?
Janco, Palram, plus I checked out the big box stores but kept coming back to the Planta Sungrow 20.

Why did you choose to buy from Planta Greenhouses?
The price was reasonable and your customer service was excellent!

What do you grow inside your greenhouse?
Several varieties of Tomatoes, hot peppers, sweet Italian peppers, zucchini squash, basil, snap peas, pole beans, eggplant, cucumbers, flowers, beets, and lettuce.

How did your Planta Greenhouse improve your gardening experience?
The groundhogs, rabbits, and deer have not gotten into the greenhouse to eat my produce! Plus I've been able to start much earlier than I normally would have. We added electricity for fans and a heater that we used in the colder months. We also installed a water hookup to make it easier to water.

What was your experience like buying from Planta Greenhouses?
It was very easy! Your customer service was outstanding! After purchasing we decided we did need the automatic vents and I called and they took care of ordering them for us. Also, one of our panels was broken in shipping and they expedited it to us! No problems!
I would highly recommend Planta Greenhouses!

What's your favourite thing about the Planta Greenhouse?
We live in Rhode Island so we have pretty cold winters and a shorter growing season, but with the addition of the electricity I can now grow almost all year round if I want to! Plus it looks great!

What would you say to a person considering purchasing a Planta Greenhouse?
Do It!!

Anything else you'd like to add?
Just again your customer service was excellent and the product is holding up very well and we love it! I will mention that I think we purchased this under my partner's name Brian Iannuccillo in case you don't see my name but you do have my email..thank you!