It is a lovely quiet space for me to spend away from work, kids, and the chores of life.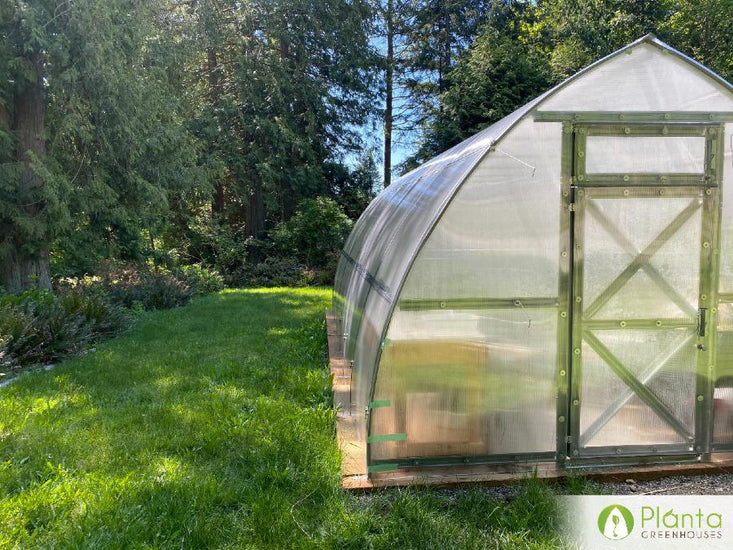 What do you grow in your greenhouse?
First year (summer): tomatoes, cucumbers, peppers, and eggplants. Planning for fall/winter: lettuce, spinach, some broccoli and cabbage. We also grow lots of seedlings.
How did this greenhouse change your growing season?
It's my first year of having a greenhouse. It meant that I was able to start harvesting summer vegetables 1-2 months earlier. We had our first cucumbers at the end of May, and I'm expecting the season to go into October/early November! I'm also very hopeful that I'll be able to have leafy greens year-round (lettuce, spinach, etc.) with the greenhouse.
How was your experience buying from Planta Greenhouses?
Last year, there were some delays with a strike in Montreal, which set us back in our building phase. However, everything else went quite smoothly, and we received all the necessary parts. Given the size of our greenhouse (we got the Sungrow 20), I had to apply for a permit which required some engineer's specifications re. snow/wind load and Planta was very helpful in providing the necessary documents.
What's your favourite thing about your Planta Greenhouse?
I love the ability to extend our growing season and grow things we normally couldn't (trying cantaloupe and watermelon this year, and we also have two small citrus trees). Because we aren't attached to the mainland, our produce (especially lettuce) is such poor quality over winter. I am so excited to be able to grow my own greens and feed our family of 5 throughout the year. The kids love wandering in, harvesting and snacking right from the greenhouse. Most of all, it is a lovely quiet space for me to spend away from work, kids, and the chores of life. I also love how beautiful it is. We've had numerous people knock on our door or come and take pictures of the greenhouse, hoping to build their own. With Covid, food security has been on everyone's mind, and I wouldn't be surprised if we have neighbours who build one as well.
What do you want to say to a person considering buying a Planta Greenhouse?
It was a great purchase, and for a great price. I would recommend getting one if you have the space and means for it.
What year did you install this greenhouse?
2021