Now we feel more self-sufficient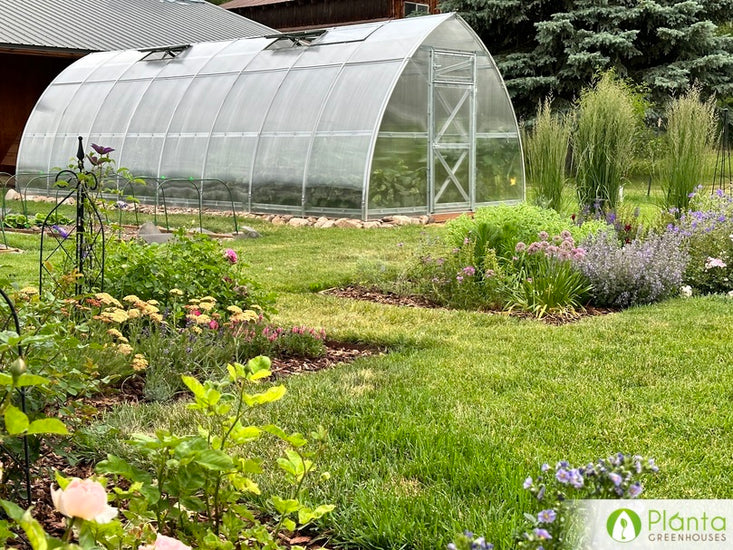 What made you get a Planta Greenhouse?
The growing season is short here and we have to be prepared for frost anytime of the year - even in summer. The greenhouse allows us to grow things we wouldn't otherwise be able to. The cathedral design and sturdy frame also help protect it against the heavy snowpack we receive each winter.

What competitors did you consider before purchasing from Planta Greenhouses?
Varieties found through Wayfair, Home Depot, and Lowes.

Why did you choose to buy from Planta Greenhouses?
Good reviews. Products are backed up with a warranty. Cathedral design.

What do you grow inside your greenhouse?
We have no last or first frost date here and so we use the greenhouse to grow things that do not tolerate frost such as tomatoes, cucumbers, tomatillos, peppers, and squash.

How did your Planta Greenhouse improve your gardening experience?
It has allowed us to grow things we otherwise could not grow - things that do not tolerate frosts and heat-loving plants. We have raised beds next to the greenhouse to grow early-season crops (in our case it is the full season) but now we can grow more and feel more self-sufficient.

What was your experience like buying from Planta Greenhouses?
We had a great experience purchasing it from Planta Greenhouses. It arrived quickly and was well packaged.

What's your favourite thing about the Planta Greenhouse?
I like the sturdy design - it did so well this past winter where we consistently had several feet of snow for over 6 months. I also appreciate the self-opening windows.

What would you say to a person considering purchasing a Planta Greenhouse?
I think it's a great investment. This is more than just a hobby to my wife and know we're going to enjoy this greenhouse for years to come.

Anything else you'd like to add?
We appreciate the assembly videos and the help we received when we called to answer a question.