Planta for the win!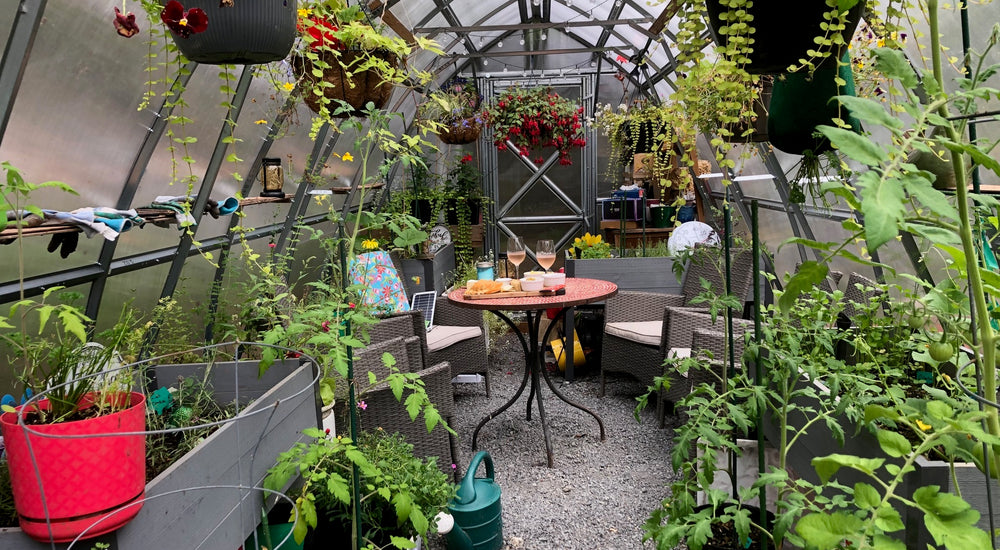 What made you get a Planta Greenhouse?
All the greenhouses that I have had in the past were damaged by wind or snow. I wanted something that could grow year-round and survive the weather. Planta for the win!

What competitors did you consider before purchasing from Planta Greenhouses?
Local options were too expensive.

Why did you choose to buy from Planta Greenhouses?
Price, size, looks, and ability to withstand wind and snow.

What do you grow inside your greenhouse?
Herbs: Tarragon, thyme, lemon thyme, basil, sage, rosemary, several kinds of mint, parsley cantaloupe, squash, purple kale, about 5 different kinds of tomatoes, lots of pretty flowers, baskets, peppers, strawberries, lemon verbena, and more.

How did your Planta Greenhouse improve your gardening experience?
Playing in the dirt is therapy for me and now I can do it year-round, rain or shine. There is room for my planting bench and a table and chairs for entertaining or for projects.

What was your experience like buying from Planta Greenhouses?
Buying the Planta Greenhouse was done easily online with a credit card. I have not yet needed to call the customer service folks.

What's your favourite thing about the Planta Greenhouse?
My favorite thing about my Planta Greenhouse is that more of what I grow will survive until the next year. It is also a wonderful place to relax, renew and entertain.

What would you say to a person considering purchasing a Planta Greenhouse?
Maintaining a greenhouse is a commitment and takes passion. If this resonates with you, and you want a good greenhouse experience, get a Planta Greenhouse. It will take a bit of time to build it, but once it's done it will provide years of service.

Anything else you'd like to add?
I do love my greenhouse and I'm glad that my husband found the Planta Greenhouse page.