Love having coffee inside on brisk mornings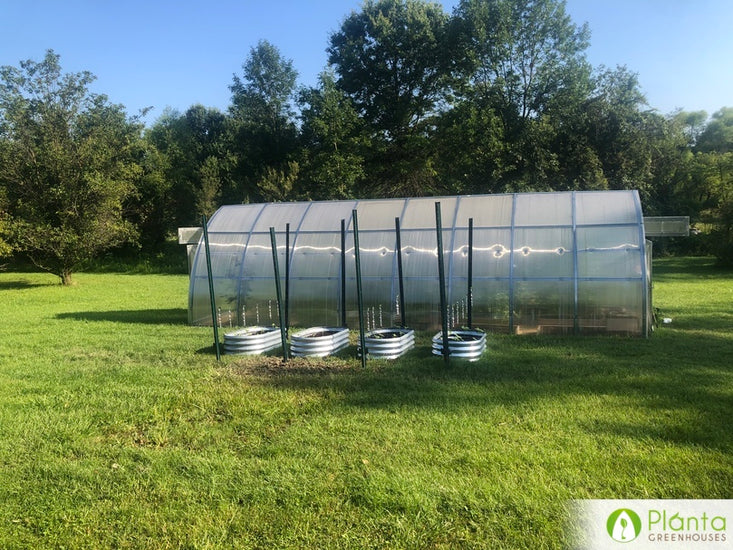 What made you get a Planta Greenhouse?
The company has been in business for several decades. The ten-warranty of their product was not only meaningful, but I felt confident they would still be in business to honor if needed. I liked the style and durability of the Sungrow 26 — the model I purchased.

What competitors did you consider before purchasing from Planta Greenhouses?
Way too many to list, but I considered local companies that construct greenhouses and looked at numerous other kits; I spent the winter months reviewing options and made my decision in the spring.

What do you grow inside your greenhouse?
This Summer season, we are growing Tomatoes, sunflowers, basil, marigolds, and snapdragons; in the spring we have assorted lettuces and will plant a fall crop also.

How did your Planta Greenhouse improve your gardening experience?
Growing in the greenhouse has greatly reduced the time needed for weeding, and the damage from deer, birds, and rabbits. The plants are thriving in the raised bed environment — our beds are also filled with organic soil.

What was your experience like buying from Planta Greenhouses?
Very easy to buy, and has great customer service. My questions on the shipment were all explained well which enabled me to line up the truck and help needed, as a tractor-trailer could deliver to my doorstep.

What's your favourite thing about the Planta Greenhouse?
I would say not dealing with wildlife and weeds is just wonderful, plus coffee on a brisk morning inside is pretty awesome as well.

What would you say to a person considering purchasing a Planta Greenhouse?
Do it and hire the Planta team to build or choose the contractor wisely.