Looks great in the landscape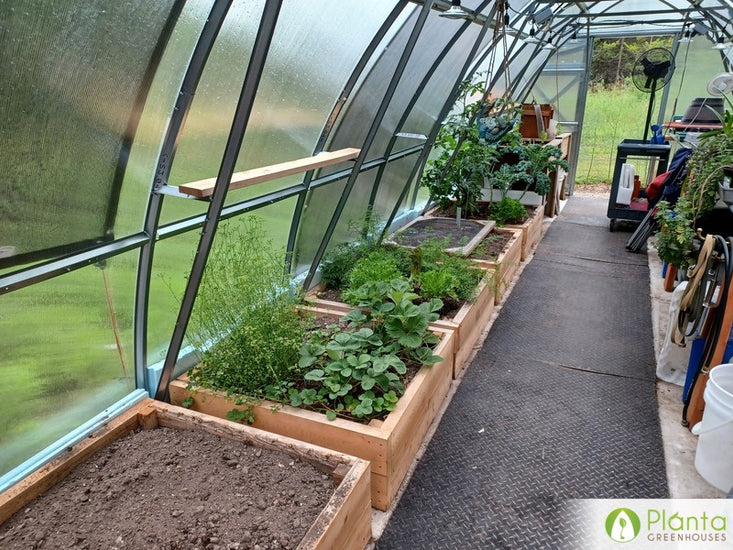 What made you get a Planta Greenhouse?
I liked its appearance, its structure integrity, its ability to withstand wind and winter snow, and it's size for the price. I also loved the customer service.

Why did you choose to buy from Planta Greenhouses?
I called your company and talked with a customer service representative who was very helpful and answered my questions.

What do you grow inside your greenhouse?
I grow spinach, strawberries, kale, tomatoes, carrots, radishes beets, lettuce, parsley, onions, broccoli, Chinese cabbage, eggplant, peppers a variety of house plants, perennials, and Japanese Maples.

How did your Planta Greenhouse improve your gardening experience?
It extends my growing season in the spring by several months. It provides protection for tender plants. Without heaters, I was able to grow kale, spinach, and cool-weather vegetables with row covers in raised beds.

What was your experience like buying from Planta Greenhouses?
The total experience was great. Even though the shipment had some damage it was easily handled by your wonderful customer service.

What's your favourite thing about the Planta Greenhouse?
I love the shape. It looks great in the landscape. Snow slides right off it in the winter. I love going out there every day.

What would you say to a person considering purchasing a Planta Greenhouse?
Don't wait, do it now. You will enjoy it for the rest of your life.

Anything else you'd like to add?
Make sure you have the patience and knowledge to assemble it.