Abundance of flowers, herbs & vegetables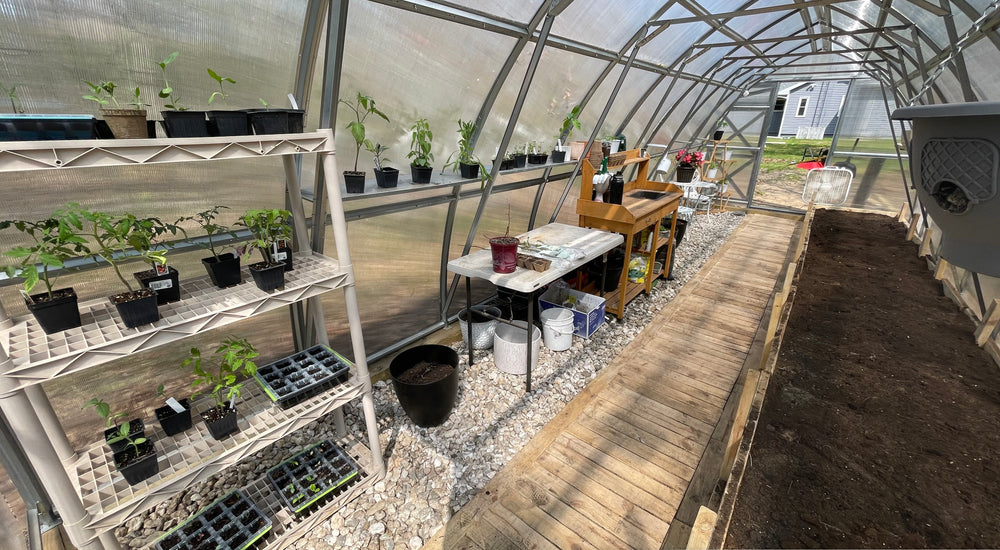 What made you get a Planta Greenhouse?
Living in Northern Michigan a few miles away from Lake Huron I needed something that would not only extend my growing season but something that would survive the winter. Purchasing a Planta Greenhouse was the answer.

What competitors did you consider before purchasing from Planta Greenhouses?
I don't remember any names of competitors, but I do recall while shopping around that Planta always came out on top despite being more expensive.

Why did you choose to buy from Planta Greenhouses?
They offered so much information about the specifics and offered the proof we needed about a permanent greenhouse in an area that gets snow half the year.

What do you grow inside your greenhouse?
I use half of my greenhouse for starting seeds and the other half has garden beds currently filled with tomatoes, carrots, radishes, cucumbers, and peppers.

How did your Planta Greenhouse improve your gardening experience?
My home doesn't have much natural sunlight. Starting seeds indoors wouldn't get very far. We knew we either needed to get an area set up with artificial light or invest in our future. Once we got the Planta greenhouse we have been able to produce an abundance of flowers, herbs, and vegetables.

What was your experience like buying from Planta Greenhouses?
Customer service has been excellent. I've called a few times and received help in a friendly manner. Buying from Planta Greenhouses was simple as far as navigating the website and such.

What's your favourite thing about the Planta Greenhouse?
The security. Knowing I have this place to grow food for my family. Or start seeds for other families. Knowing that it is sturdy and secure throughout all the seasons.

What would you say to a person considering purchasing a Planta Greenhouse?
It's a bigger project than you think, so be prepared. Order everything you need at once to avoid shipping costs in the future. Go bigger if you have the space for it. The Planta customer service and the entire Planta community (FB group) is a great resource to have!