Considering buying a second greenhouse!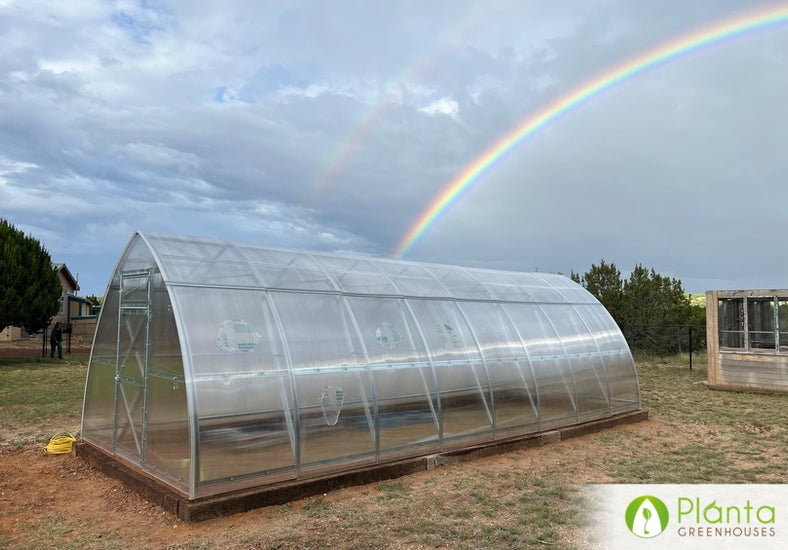 What made you get a Planta Greenhouse?
We live in an area that routinely sees 60mph+ winds with strong gusts, so polycarbonate panels are a must as is the bell-shaped cross-section. Planta also had a reputation for quality kits.

What competitors did you consider before purchasing from Planta Greenhouses?
The closest competitor seemed to be the Exaco Riga from Costco at more than double the price and with few cross-braces. While their panels are marginally thicker (8mm vs Planta's 6mm), and this may lead to a greater temperature bump, your panels already increase the temperature by almost 30F. We often see 100F in the summer, so 6mm is more than adequate.

Why did you choose to buy from Planta Greenhouses?
With strong structure, polycarbonate panels, and excellent quality, you know you have a good kit, when all the
holes line up!! Also glad it's made in primarily Slavic countries and not China.

What do you grow inside your greenhouse?
We have not started to grow yet, but plan on an herb section, and the usual assortment of tomatoes, a few melons, cucumbers, and root vegetables. The upper shelf will also be great for starting seeds.

How did your Planta Greenhouse improve your gardening experience?
It would be impossible to grow anything without Planta. We needed a strong frame that can withstand 60+mph winds (sometimes up to 80), and be somewhat rodent and rabbit-proof.

What was your experience like buying from Planta Greenhouses?
The purchase was smooth. A few pieces were missing but quickly replaced. The only area to improve would be to provide more poly tape. I didn't waste any but still had to buy another roll.

What's your favourite thing about the Planta Greenhouse?
The structure is strong with good bracing that can be used for hanging plants. The kit took a while to assemble but the videos were reasonable.

What would you say to a person considering purchasing a Planta Greenhouse?
There are no suitable alternatives. The Planta product is priced right and will serve you well for as long as you need it.

Anything else you'd like to add?
We have purchased a second property and are considering buying a second copy of the same greenhouse to assemble. That should speak volumes!