Withstand our harsh winters and heavy snow loads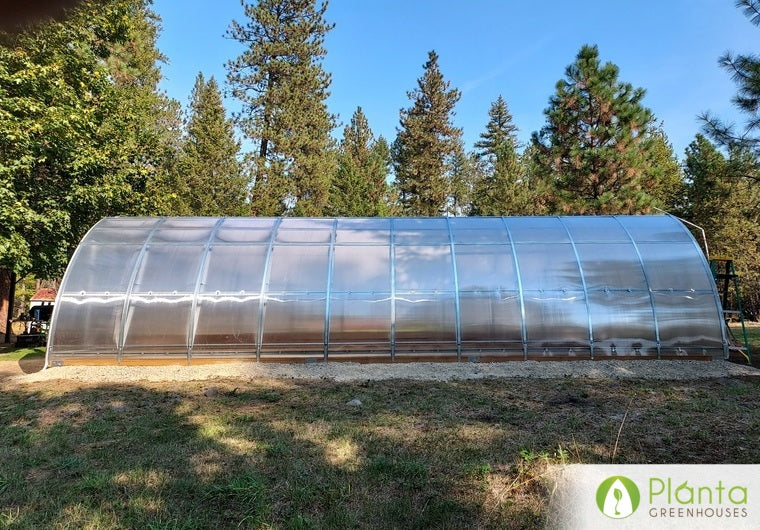 What made you get a Planta Greenhouse?
Wanted a greenhouse that would withstand our harsh winters and heavy snow loads common to our area. After countless hours of research, we found Planta "checked all our boxes" and was the way to go!

What competitors did you consider before purchasing from Planta Greenhouses?
Several, can't quite remember brand names but after comparing them to Planta, it was an easy decision to go with Planta!

Why did you choose to buy from Planta Greenhouses?
Sungrow 32 with automatic vent windows.

What do you grow inside your greenhouse?
We currently have cucumbers, tomatoes, and onions growing in our greenhouse.

How did your Planta Greenhouse improve your gardening experience?
We never expected the Planta greenhouse would make our gardening as fun as it has been! The greenhouse creates its own inside atmosphere and our plants are thriving as a result of that!

What was your experience like buying from Planta Greenhouses?
Extremely easy! Customer service was there to answer our questions prior to ordering, placing our order, and updating us with shipping information.

What's your favourite thing about the Planta Greenhouse?
Other than the outstanding product quality and workmanship, my favorite and most appreciated part is the step-by-step installation videos! We would have been lost without them! It guided us through the entire process, from start to finish. As mentioned, construction time would have been greatly extended without the installation videos!

What would you say to a person considering purchasing a Planta Greenhouse?
Do it! Don't bother looking for a better product or price, it's not out there. And the support you receive from Planta will exceed your expectations!

Anything else you'd like to add?
Again, can't be happier with our purchase, the only regret is that wish we would have done this before we did! It has made our gardening experience both very enjoyable and worry-free! With over 3 feet of snow here last winter, the Sungrow is in as good shape as the day it was constructed! This spring we have had heavy rains and some light hail, not a problem with either one, the Sungrow stood the challenge of Mother Nature and won!