The greenhouse of our dreams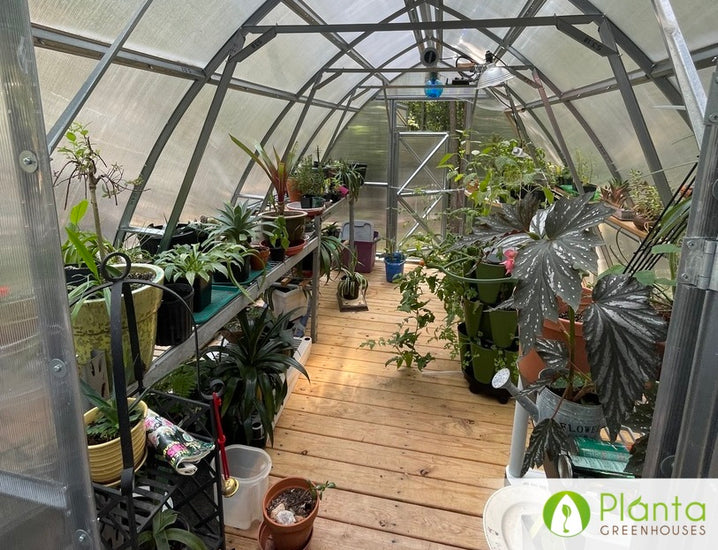 What made you get a Planta Greenhouse?
After doing a lot of research we decided that this greenhouse would suit our needs for quality and price. We are in our sixties and seventies and this is our first greenhouse. We wanted something that would last through our gardening years and be fairly low maintenance. Now I also am able to safely house some of the special plants I have and grow a few veggies under ideal conditions. I really like the design and size.
What competitors did you consider before purchasing from Planta Greenhouses?
All brands on Amazon, Home Depot, and Harbor Freight.

Why did you choose to buy from Planta Greenhouses?
After looking at quite a few others, we liked how well a Canadian-made house would do in NC. We get a few inches of snow which would damage many of the houses we looked at. We liked the size and the peaked roof. we already had a deck to which we could attach the house, so the Urban Planta was perfect for us.

What do you grow inside your greenhouse?
Tomatoes, Peppers, herbs, fancy hostas, Bromeliads, agaves, miniature roses, elephant ears, banana tree, Avocado tree, bonsai azalea, cannas, assorted starts (native flowering plants).

How did your Planta Greenhouse improve your gardening experience?
No longer have nose pressed to the window. Finally got the greenhouse of our dreams. Plants I've had for years are blooming for the first time and are very happy. I am a county master gardener volunteer and my fellow gardeners are also impressed by the Planta.

What was your experience like buying from Planta Greenhouses?
Our buying experience was online. All the info we needed was there; complete and easy to understand. We had already looked at a number of other greenhouses so the better quality of the Planta was evident. The video showing construction made my husband confident he could do it. We thought the price was commensurate with the quality. Ordering's seamless and delivery as well all parts were there and in perfect shape.

What's your favourite thing about the Planta Greenhouse?
It is very durable, has just the right amount of space. Love the door and transom at both ends. Also just love the look of it.

What would you say to a person considering purchasing a Planta Greenhouse?
Look at other offerings for perspective then get the Planta.

Anything else you'd like to add?
we are thinking about a second one.