Our Pansies Flourished All Winter Long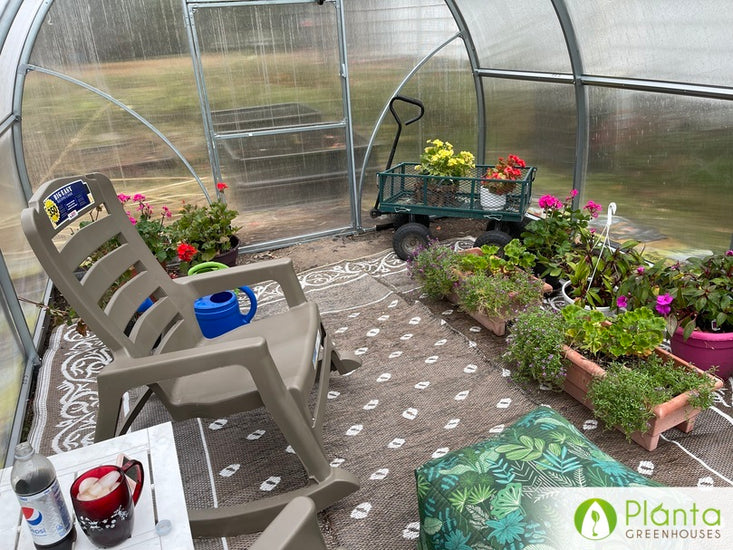 What made you get a Planta Greenhouse?
They looked sturdy. I wanted something that could take Michigan wind and snow.

What competitors did you consider before purchasing from Planta Greenhouses?
I had another one many years ago made with PVC pipes. Also considered Pelram but they looked, and the reviews confirmed, flimsy. My old greenhouse was ok but did not heat well and was small.

Why did you choose to buy from Planta Greenhouses?
Great reviews, price, and warranty convinced me that this was a good product.

What do you grow inside your greenhouse?
I start my flower and vegetable seeds early. I also grew lettuce and beans inside for the first time. Also, I overwintered my pansies and even without heat they survived the whole winter.

How did your Planta Greenhouse improve your gardening experience?
I used it off-season just to enjoy the warm sun in the winter, like a mini vacation. Inside the temps would be 80 and up.

What was your experience like buying from Planta Greenhouses?
Service was great, absolutely no problems.

What's your favourite thing about the Planta Greenhouse?
I usually start my seeds inside under lights but always have trouble keeping them healthy. I was impressed by just what a difference this greenhouse made. I did not even add lights in late winter/early spring and still had great-looking plants.

What would you say to a person considering purchasing a Planta Greenhouse?
I was torn between 13ft and 20ft, I wish I had gone larger. I did run short on space.

Anything else you'd like to add?
I only get about a half day of sun on my greenhouse and it still warmed up great. It is not even completely airtight(our fault) but all I needed to keep my plants warm was a small electric heater, amazing.